S Group Launches a New Nutrition Calculator to Help Monitor the Quality of Your Groceries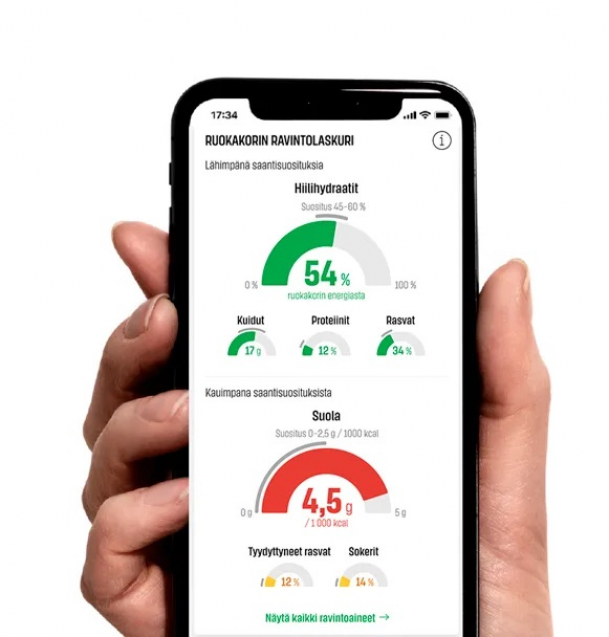 Interpreting the numbers in nutritional information is laborious, and it is not always easy to see how the values fit into the bigger picture.
S-group in order to help costumers monitor the health aspects of their groceries and make wiser shopping decisions launched a new nutrition calculator.
The nutrition calculator, which is part of the S-mobiili mobile app, in the Omat Ostot (My Purchases service), turns out to be a user-friendly instrument to monitor the quality of groceries, revealing the sources of saturated fatty acids, fibre, salt, and sugar. Thanks to personalized feedback, the nutrition calculator shows to be a very valuable support for people who are trying to change their diet, making it healthier and more climate-conscious.
With the calculator, it is easy to monitor nutrients that are the most challenging for people. These include the amounts of salt, fibre, sugar, and saturated fatty acids. The Nutrition Calculator shows the proportion of nutritional values in the total energy of grocery purchases. These are then compared to Finnish nutrition recommendations.
A green indicator means that you are doing well and that the total nutritional value is at the recommended level. A yellow indicator means that the total nutritional value is close to the recommendations but still outside the recommended values by 10% to 20%. A red indicator means that you are now further from the recommendations and that you should review the sources of these nutritional values more closely.
The calculator receives the data from the nutritional values specified on food packaging. In the case of unpackaged products, such as fruit and vegetables, the nutritional values are retrieved from the National Food Composition Database Fineli, which is maintained by the Finnish Institute for Health and Welfare. This way, consumers can receive comprehensive nutrition data from one place in a whole new way.
The service has already almost 400,000 users, and it can be used for keeping track of the nutritional values of groceries, their domestic origin, carbon footprint, and amount of vegetables and fruit in purchases.