340 Organisations Urge Timmermans to Keep NGTs Regulated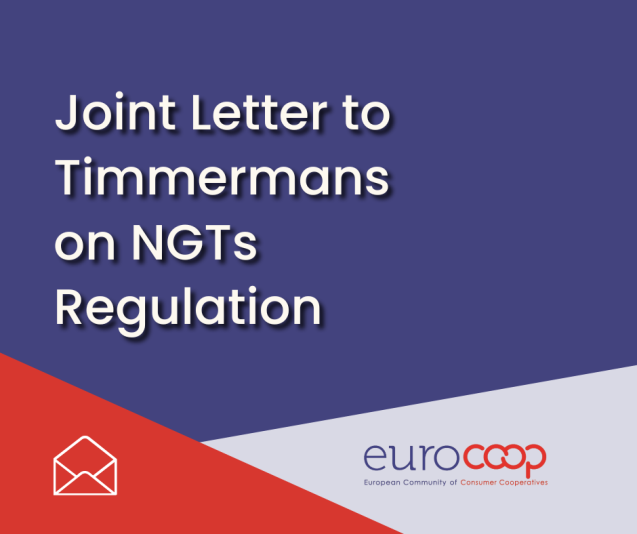 Euro Coop joins forces with 340 organisations to voice concerns over potential deregulation of NGTs, highlighting impacts on nature, health, and consumer choice.
Euro Coop, together with 340 civil organisations, has co-signed a letter addressed to Frans Timmermans, the Executive Vice-President of the European Green Deal. The letter serves as a collective expression of concerns regarding the potential deregulation of new genomic techniques (NGTs) and the implications such a move could have on nature, climate, farmers' rights, and consumer choice.
Highlighting a critical issue, the signatories point out that arguments in favor of deregulating NGTs often lack substantial evidence, particularly when it comes to sustainability claims. Importantly, the signatories stress that the European Court of Justice has already classified NGTs as genetically modified organisms (GMOs) under Article 191.2 TFEU. Moreover, the EU already possesses a well-established GMO legislation framework that includes transparency, labeling, and safety checks, which have been successfully implemented for more than two decades.
DG SANTE justifies its proposed deregulation of new GMOs by suggesting their potential contribution to the sustainability and climate adaptation goals of the European Green Deal. However, the letter counters this claim by asserting that no NGT has demonstrated any tangible sustainability benefits. In addition, the signatories raise a crucial alarm, warning that any deregulation of new GMOs could result in untested and unlabelled products entering both the environment and the market. This scenario would place additional pressure on biodiversity and undermine the rights of consumers, farmers, and business operators.
The letter strongly cautions against DG SANTE's proposal, asserting that the proposed deregulation of new GMOs would compromise safety and transparency standards, negatively impacting biodiversity, climate, consumers, and businesses within the farming and food sectors. Moreover, it would jeopardise the predominantly GMO-free agriculture and food industry within the EU and undermine the EU's ambitious objective of achieving 25% organic farming and reducing pesticide usage by 2030.