CCU-Bulgaria's kids art contest promotes COOP Marque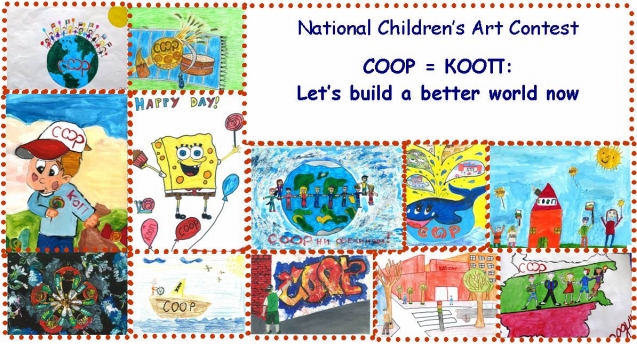 Every year on 1 June, Bulgaria celebrates International Children's Day. On this occasion, Central Cooperative Union-Bulgaria organizes various interesting events, thematic competitions, fun games and entertainment, provoking the interest of children and their parents towards the cooperative idea and the role of the cooperative in their daily life.
After 2012 – IYC, CCU-Bulgaria organized the II Annual National Children's Art Contest: LET'S BUILD A BETTER WORLD NOW. The aim is to promote the Global "COOP" Marque (in conjunction with its Cyrillic spelling) and to encourage children's creative imagination on the meaning of "COOP" to them. 481 children from all regions of Bulgaria participated with 487 drawings, available in the online gallery on the CCU website and on the CCU Facebook page.
An independent jury ranked the Top 50 drawings, which were exhibited during the CCU General Assembly, held in May 2016, and on the occasion of the International Children's Day celebration, held on the premises of supermarket "COOP" in Sofia.
The Children's Art Contest is one of many initiatives of the Central Cooperative Union in promoting the Global COOP Marque, with which CCU officially joins the ICA Global Marketing Campaign to promote the cooperative identity: "Building a Better World Now".
Latest Co-op Distinctiveness news
Latest Co-op Distinctiveness stories