COOP Czech's Innovative Expansion: Creating Europe's Largest Network of Automated Stores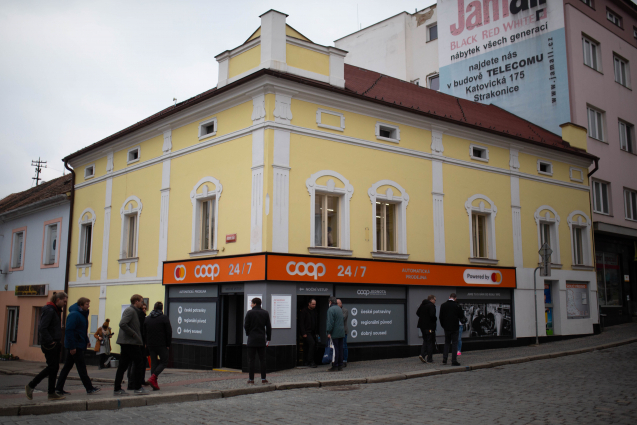 COOP Czech is leading the way in the European retail industry with its ambitious plan to establish the Europe's largest network of automated stores. This innovative concept not only benefits consumers but also strengthens ties with municipalities and local suppliers. With support from ČSOB and Mastercard, COOP Czech aims to add 50 more automated stores to its network by the end of 2024.
COOP Czech's vision of automated stores represents a paradigm shift in retail. Its first automated store in Strakonice was introduced about a year and a half ago, pioneering this concept in the Czech Republic. Since then, the COOP network has expanded, currently operating ten automated stores designed to cater to shoppers in rural regions, smaller towns, and even city centres, ensuring accessibility for all. "We chose a simple, affordable, yet functional solution that brings a whole new level of shopping comfort to customers. Based on experience, it turns out that the automated sales system is an ideal solution for stores in villages or smaller towns" explains Lukáš Němčík, Director of Development and Marketing of the COOP network.
Customers are drawn to these stores not only for convenience but also because they promote local sustainability by actively collaborating with regional suppliers. "COOP is not a classic company, we are a union of cooperatives. We have a membership base of over a hundred thousand and are deeply rooted in the region. That's why we care about the places where we operate. I am personally proud that we were able to come up with such a fundamental innovation as the first in Europe. It is proof that even a purely regional organization can set modern innovation trends" continues Lukáš Němčík.
Support from local governments and municipalities is on the rise, with numerous subsidy programs aimed at sustaining these hybrid stores. The Czech governement is also taking a proactive stance through initiatives like the "Shop 2021+" program, which targets villages with a population of up to a thousand inhabitants without simultaneous retail competition. The Ministry of Industry and Trade, through the "Czech Republic Pays by Card" project, has already installed thousands of payment terminals to promote cashless transactions.
COOP Czech's innovative approach to retail, supported by its partnership with ČSOB and Mastercard, is not just about convenience; it's about revitalizing local economies, fostering sustainability, and adapting to the changing needs of consumers. By leading the way in automated stores, COOP Czech is setting an example for other entities to follow suit, championing modernization while preserving the essence of community retail. Its grand plan to establish Europe's largest network of automated stores is reshaping the retail landscape. By investing in modern technology, regional cooperation, and the support of its partners, COOP Czech is ensuring that customers across the country have access to convenient and sustainable shopping options. In doing so, they are not only innovating but also setting a shining example of how regional organizations can lead the way in modern retail trends.
Latest Co-op Distinctiveness news
Latest Co-op Distinctiveness stories