Empowerment, Employment, Engagement
After the success of the 2008 and 2012 European co-operative youth forums in Bulgaria, Central Co-operative Union (BG) hosted the Consumer Co-operatives Worldwide (CCW) Global Youth Forum on 22-23 September 2016 in co-op hotel complex MELSA COOP in the ancient Black Sea town of Nessebar.
Petar Stefanov, President of CCW and CCU-Bulgaria opened the Forum by warmly welcoming all participants:
"…….there is one particular issue to which I am addicted, and that is co-operative youth policy. My firm commitment is due not to the cliché that "youth is our future", but because of my belief that youth are the carriers of new ways of thinking, fresh ideas, and dreams. There should be no doubt as to their role for the future development of the co-operative idea, because they are the ones who will carry forth the flame from our hearts, which we, the older generation, managed to safeguard for them. But we need to hand it over in good fashion, so that we may assist them in their biggest mission yet – to create a better world now."
The Forum successfully brought together 26 foreign delegates from 13 countries, and 1 global sectoral organisation – CICOPA, spanning from all Alliance Regions – Africa, Americas, Asia-Pacific, and Europe. The list of participants is as follows:
Katsumi ASADA – President of Japanese Consumers' Co-operative Union (JCCU) and CCW Vice-President;
Gabriela Buffa – ICA Board Member – Youth Representative and Alliance Global Youth Network Chair;
Dr. Chiyoge B. Sifa – Regional Director, Alliance Africa;
Massimo Bongiovanni – Vice-President of ANCC/Coop Italy, CCW Executive Committee Member and President of Euro Coop;
Illia Gorokhovskyi, PhD – Chairman of The Central Union of Consumer Societies, Ukraine and CCW Executive Committee Member;
Prof. Dmitryi Valigurskyi, PhD – Dean of Management and Trade Faculty, Russian University of Co-operative (RUC);
Leire Luengo – Communications Officer, CICOPA;
Gobe Taziba – Alliance Africa Youth Representative and Chair of Co-op Youth Network, Botswana;
Lucy Murumba – Chair of Kenya Co-operative Coffee Exporters Limited (KENCAFFEE);
Sam Thorley – Customer Engagement Coordinator, Food Retail Group, The Midcounties Co-operative, UK;
Shani Knight – Human Resources Projects Advisor, Personnel Group, The Midcounties Co-operative, UK;
Martin Miido – Communications Director, Coop Estonia;
Shay Avrahmi – Head of City Regulations and Security Department;
Mattia Affini – European Co-operative Youth Network;
Liu Ting – Deputy Director, International Affairs Department, China Co-op;
Wang Man – Senior Expert, International Affairs Department, China Co-op;
Elena Kutsyna – Dean, Ulyan College of Economics and Law, Centrosoyuz, Russian Federation;
Victoria Mironcheva – Student, Ulyan College of Economics and Law, Centrosoyuz, Russian Federation;
Roman Anishtenko – Student, Ulyan College of Economics and Law, Centrosoyuz, Russian Federation;
Emin Ahmedov – Senior Expert, International Affairs Department, Coop Ukraine;
Nadiia Havryliak – Student, Lvov Economics University;
Tea Valjakka – Concepts Director, SOK Finland;
Marc Splithof – Communications Project Manager, Coop Netherlands;
Yuki Nishimoto - Secretary, ICA Asia-Pacific Consumer Committee;
Mihail Ionut Florescu – President, "Super COOP" Tg Neamt, CENTROCOOP Romania;
Daniela Florescu – Senior Expert, "Super COOP" Tg Neamt, CENTROCOOP Romania;
Todor Ivanov – CCW Secretary.
CCU-Bulgaria delegates:
Vania Boyuklieva – CCU Vice-President
Okti Doncheva – Director General, International Affairs
Polina Shishkova – COOP Media and Marketing Director
Teodora Kuzmanova – Head of Unit, Legal Affairs
Nevena Bukova – Senior Expert, International Affairs Department
Krasimir Ignatov – Senior Expert, International Affairs Department
Hristo Strumin – Manager, COOP Market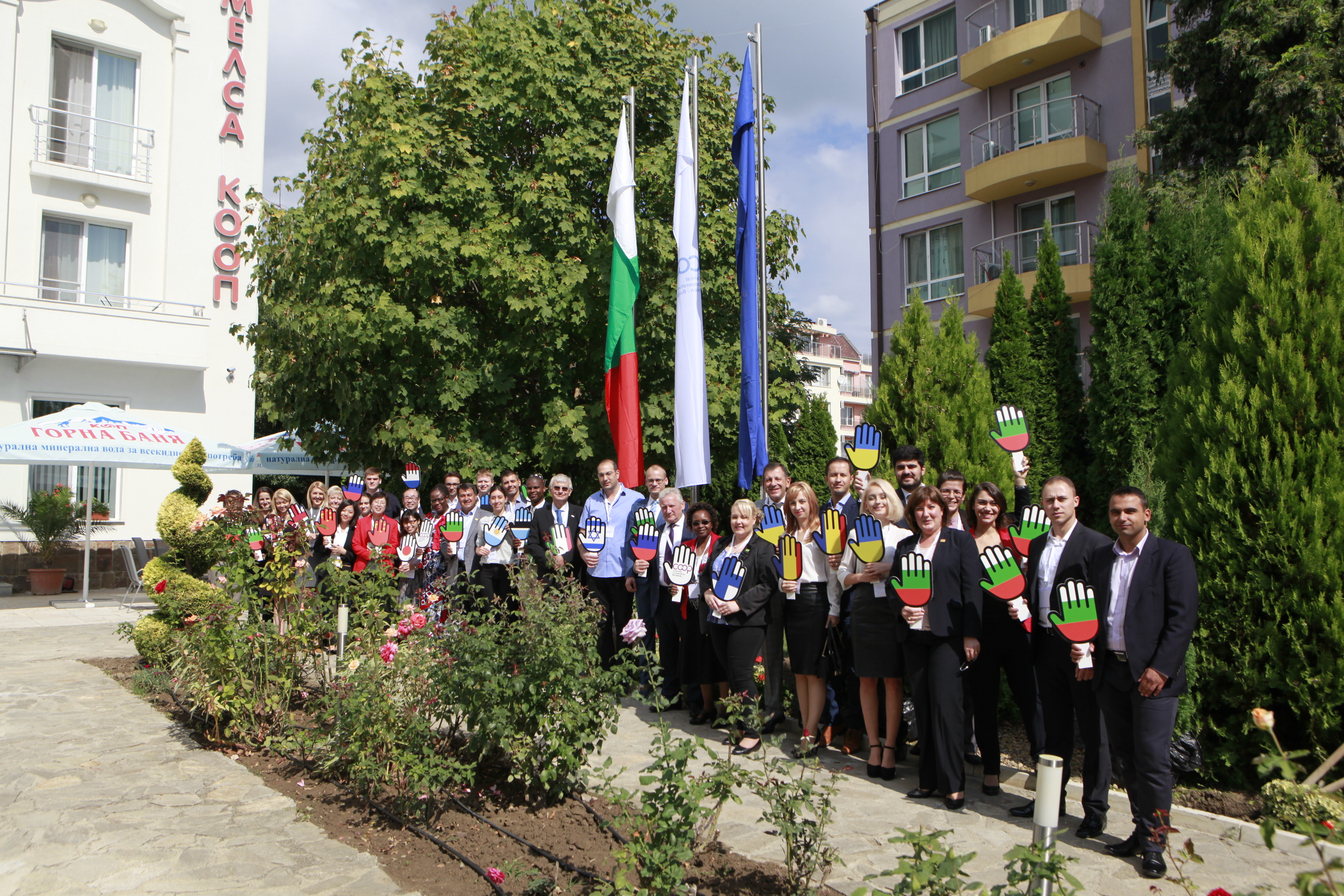 The two main issues of discussion were policies of national consumer co-operative organisations for the recruitment of youth to co-operatives and for the participation of youth in the management of consumer co-operatives. The keynote speech was delivered by Gabriela Buffa – Alliance Board Member and Chair of the Alliance Global Youth Network. Delegates were acquainted in detail with the Alliance Global Youth Network and the European Co-operative Youth Network – specifically, their establishment, current work, and future steps to reinforcing the voice of the youth within the global co-operative movement.
Introductory speeches to the Forum included those of Dr. Chiyoge B. Sifa – Alliance Africa Director; Katsumi Asada – JCCU President and CCW Vice-President; Massimo Bongiovanni – ANCC/Coop Italy Vice-President, CCW Executive Committee Member, and Euro Coop President; and Professor Valigurgyi – Dean of the Management and Trade Faculty of the Russian University of Co-operatives (RUC). All speeches were united around the fact that the co-operative business model provides better opportunities for attracting young people than any other form of business. The co-op democratic governance structure and business code of conduct, which go beyond the pursuit of maximum profit, are factors that help unleash the potential of young people and involve them in the decision-making process of co-operatives. It is in these conditions that young co-operators exhibit more creativity and deploy their entrepreneurial and managerial capacity. This is of immense significance when putting it in the context of global youth unemployment of 71 million young people. The world today is seeing its biggest youth generation in human history – 1.8 billion individuals; yet by World Bank reports, of the 1 billion people who shall enter the job market win the next decade, only 400 million will find existing jobs. This means that the global economy needs to create 600 million new work places if the current youth employment rates are to continue. To be specific – that translates to 5 million jobs a month for the next 10 years.
Despite the immense challenge, this could be an opportunity for not only consumer co-operatives, but all co-operatives, to play a leading role in battling the global youth unemployment epidemic by recruiting young professionals and by setting up co-operatives in existing and new sectors of the economy.
The national organisations that shared their experience in the recruitment of youth and their engagement in the decision-making processes on national level through presentations were as follows:
Africa:
Regional Initiatives and Botswana Co-operative Association;
Americas:
COOPERAR, Argentina and Regional Initiatives;
Asia-Pacific:
Japanese Consumers' Co-operative Union and China Co-op;
Europe:
Coop Ukraine; The Midcounties Co-operative, UK; SOK Finland; CCU-Bulgaria; Centrosoyuz and Russian University of Cooperatives, Russian Federation.
Our colleagues from CICOPA were represented by Leire Luengo, Communications Officer and Campaign Manager, who acquainted all Forum participants with CICOPA's Global Youth Entrepreneurship Campaign along with a very powerful global youth video "Working Together for a Cooperative Future". The one-year global campaign has the objective of promoting the co-operative model to youth in order to facilitate youth entrepreneurship by harnessing the creativity, innovation, ambitions, and aspirations of young people worldwide for more democracy, fairness, solidarity and care for the community.
In his closing remarks, CCW President – Petar Stefanov shared that "… our planer has never been so young with the current 1,8 billion young people inhabiting it. They are the most determined and open-minded generation that ever existed. They are the ambassadors of change towards a better world and they have a prime role in the implementation of the Sustainable Development Goals (SDG) – an issue which the Alliance is investing a lot of efforts and resources in. Co-operatives are in place offer a better future for young people, due to their instrumentarium which eliminates the barriers, which youth often face in today's world. I hope our Forum will remain in your hearts for a long time and it will inspire you towards further collaboration among young co-operators from all regions and sectors of the International Co-operative Alliance, because as CCU's slogan says, "all together we can do more".
Based on the discussions and presentations throughout the two-day Forum, the delegates drafted a Manifesto "We, the Co-operative Youth" which presents certain commitments of the youth around the world, but which also includes specific appeals towards national and international co-operative organisations in the areas of recruitment of youth to co-operatives and their engagement within the management of co-operatives.
As a symbol of the potential and vitality of co-operative youth and the co-operative spirit, the Forum's delegates planted two "youth trees" (cypress) next to the marble engraving dedicated to the Global Youth Forum.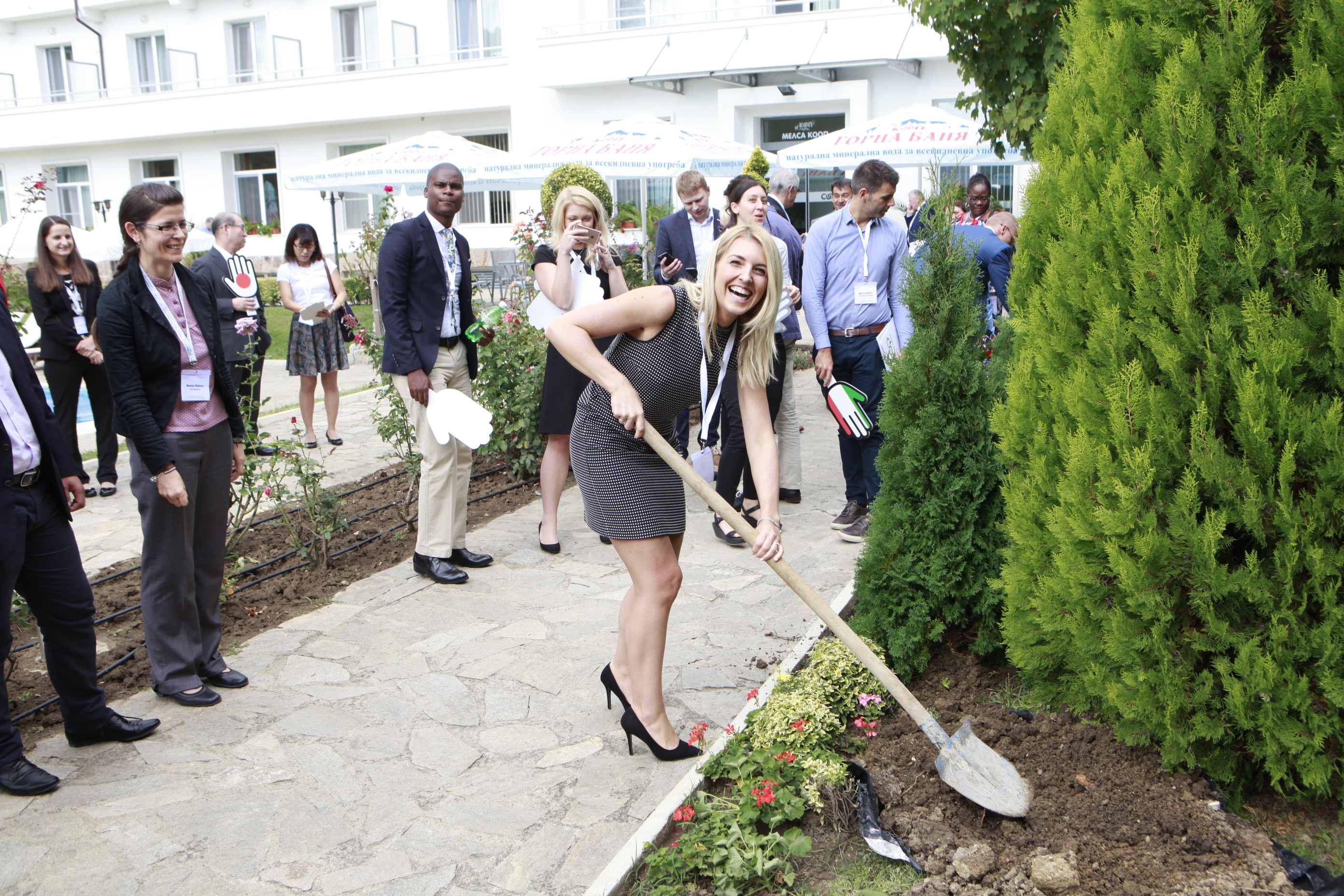 You can find the Forum's programme here.