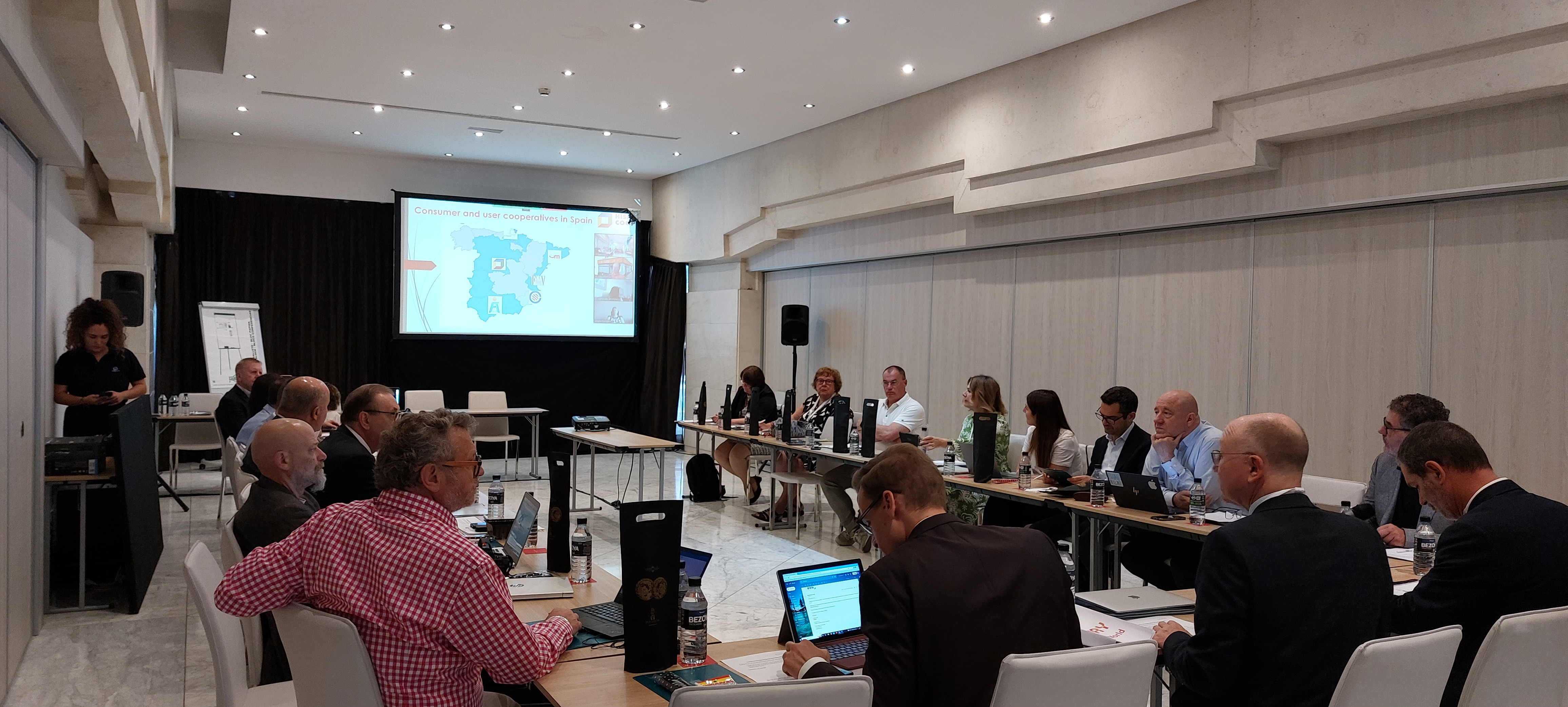 Euro Coop General Assembly started with the warm welcome of Mikel Larrea Azpeitia, President of HISPACOOP - the hosting organisation, who presented the main activities of the Spanish consumer
co-operative movement. This includes coordination and representation at institutional level, including:
- CO-OPERATIVE BUSINESS, representing the interests of consumer co-operatives, and developing the movement's values and principles.
- CONSUMER-CENTERED ACTIVITY, representing consumers through consumer and user co-operatives and acting as the point of reference for the information and training on relevant topics.
The leading consumer co-operative chain – Eroski, a member of HISPACOOP – was also presented in terms of their socio-economic contribution to the national economy and to the local communities. The HISPACOOP President, who is also Secretary-General of Eroski – the leading Spanish consumer co-operative, praised Euro Coop's work, especially as regards the EU Code of Conduct for Responsible Food and Marketing Practices, the plastics strategy, consumer affairs and the recently launched sustainable food systems framework law.
Euro Coop has also received the visit of the newly re-elected President of the International Cooperative Alliance, Dr. Ariel Guarco, who stressed the importance of the co-operative movement and values and expressed his recognition for Euro Coop's work and commitment to advancing consumer protection, innovation in the retail sector and consolidation of consumer co-operatives. He reaffirmed his readiness to create conditions for closer co-operation within the global and European co-operative movements.
Mathias Fiedler presented the President's Report which included work in the area governance in view of reinforcing the Association's strategic outlook and operational workstreams, as well as an update of the statutes; in the area of interco-operation among members within the Association, among EU-level co-op sectors, and with Cooperatives Europe.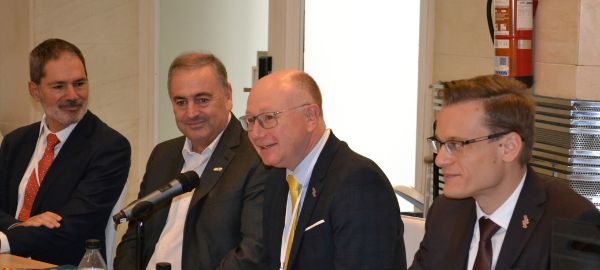 Todor Ivanov presented to the Assembly the Secretariat's latest developments in the areas EU policy, membership, and the two EU-funded projects in which Euro Coop is participating. He also presented the 2021 draft activity and financial reports, both of which were adopted.
Important developments in the area of membership took place. The Assembly had the opportunity to officially ratify the membership of the National Supervision Union of Społem Consumer Co-operatives (Społem), Poland and the change in membership status of Fédération Nationale des Coopératives de Consommateurs (FNCC) from associate to full membership.
In his address to the Assembly, Ryszard Jaśkowski – Społem President expressed the readiness and ambition of the Polish consumer co-operatives to contribute to the consolidation of the European movement and emphasized the importance of working together to overcome the numerous social, environmental, political, and security challenges – including food security and sustainability - which are increasingly disrupting the lives of the millions of consumer members, and not only, across Europe.
The Assembly warmly welcomed Społem as the Association's 20th member and ratified the membership category upgrade of FNCC.
The elections for the mandate 2022-2026 saw the re-election of:
- Mathias Fiedler, ZdK (DE) as President
- Dr. Illia Gorokhovskyi, Coop Ukraine (UA) as First Vice-President
- Andreas Koumis, Coop Stores Cyprus (CY) as Vice-President
- Marjaana Saarikoski, SOK (FI) as Vice-President
- Albino Russo, ANCC/Coop (IT) as Vice-President
- Debbie Robinson, FRTS (UK) as Vice-President
Loïc Pelletier – President of FNCC (FR) was elected as internal auditor, taking over from Chantal Van Velp of Coop Netherlands.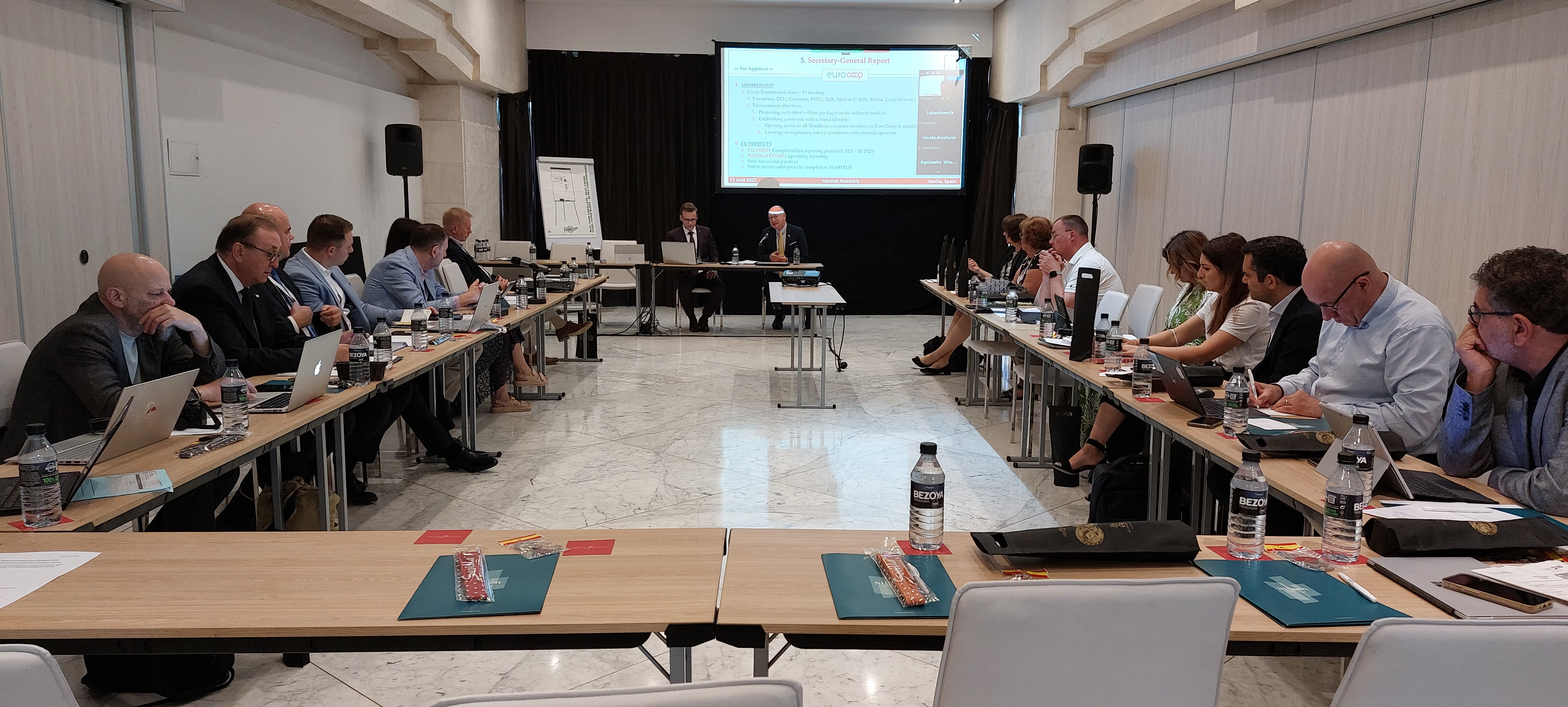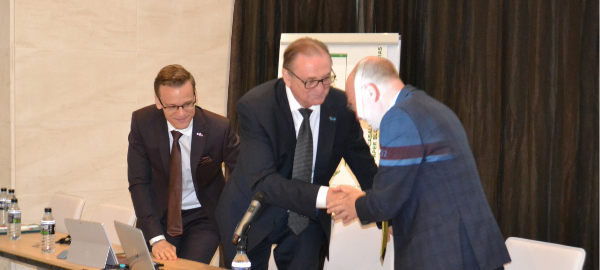 The elections were followed by a fruitful discussion among Board members about areas of collaboration such as implementation of new ideas and strategies for EU advocacy and representation of consumer
co-operatives and for reinforcing interco-operation between the national members.
Dr. Illia Gorokhovskyi – Coop Ukraine Chairman and Euro Coop First Vice-President appealed for closer co-operation and support for Ukraine by providing direct aid to Coop Ukraine, whose nationwide network could immediately make a difference for local communities. Dr. Gorokhovskyi expressed his sincere appreciation for all members who have showed support thus far and reiterated the importance of standing together in the face of common challenges and threats.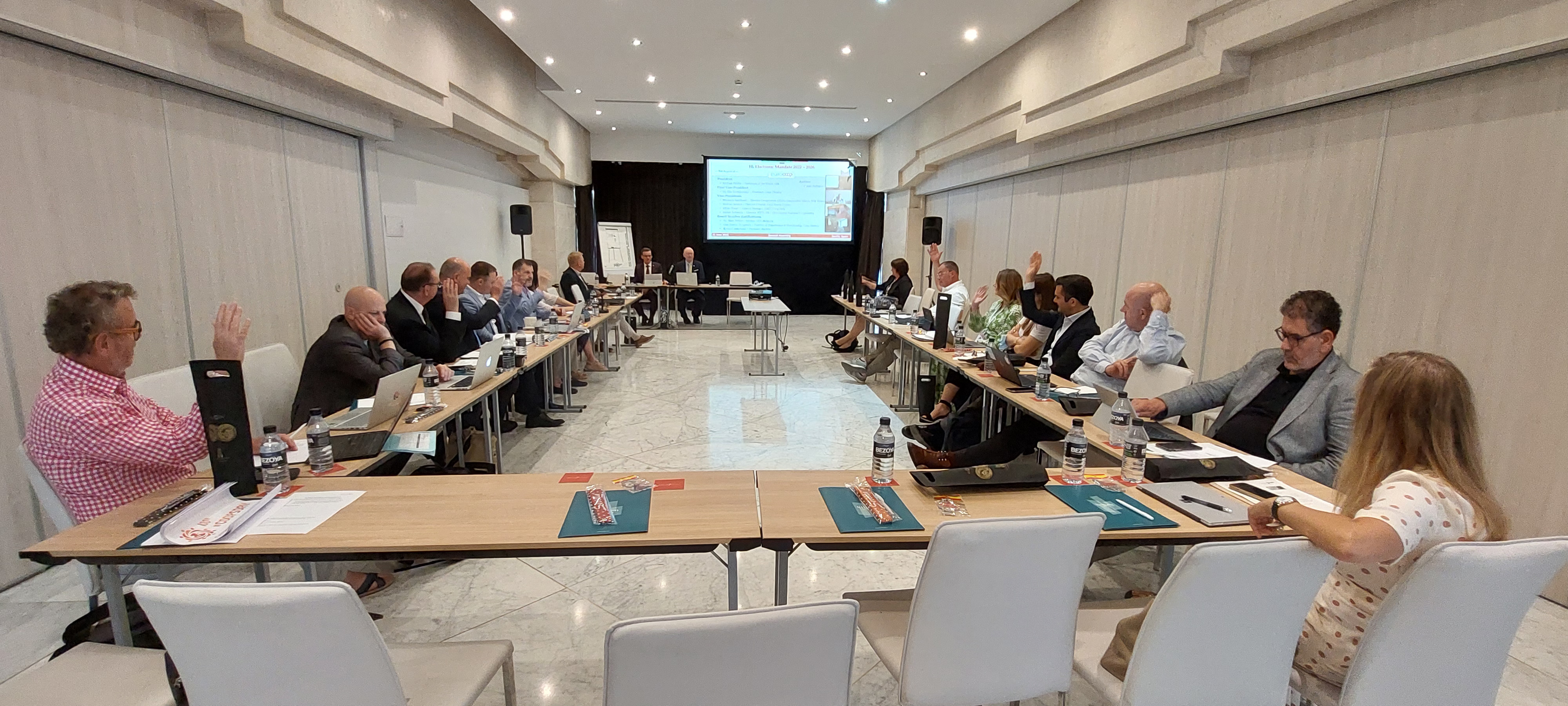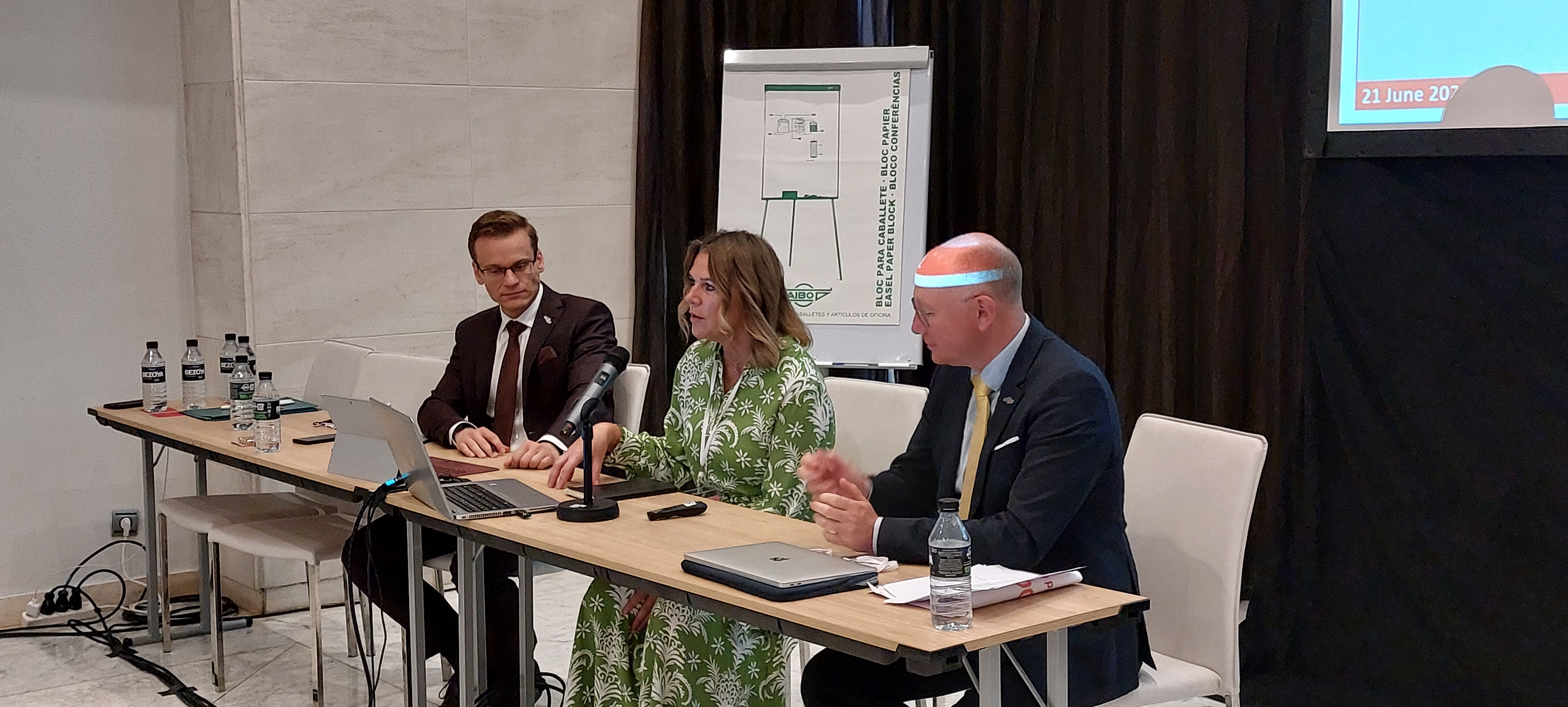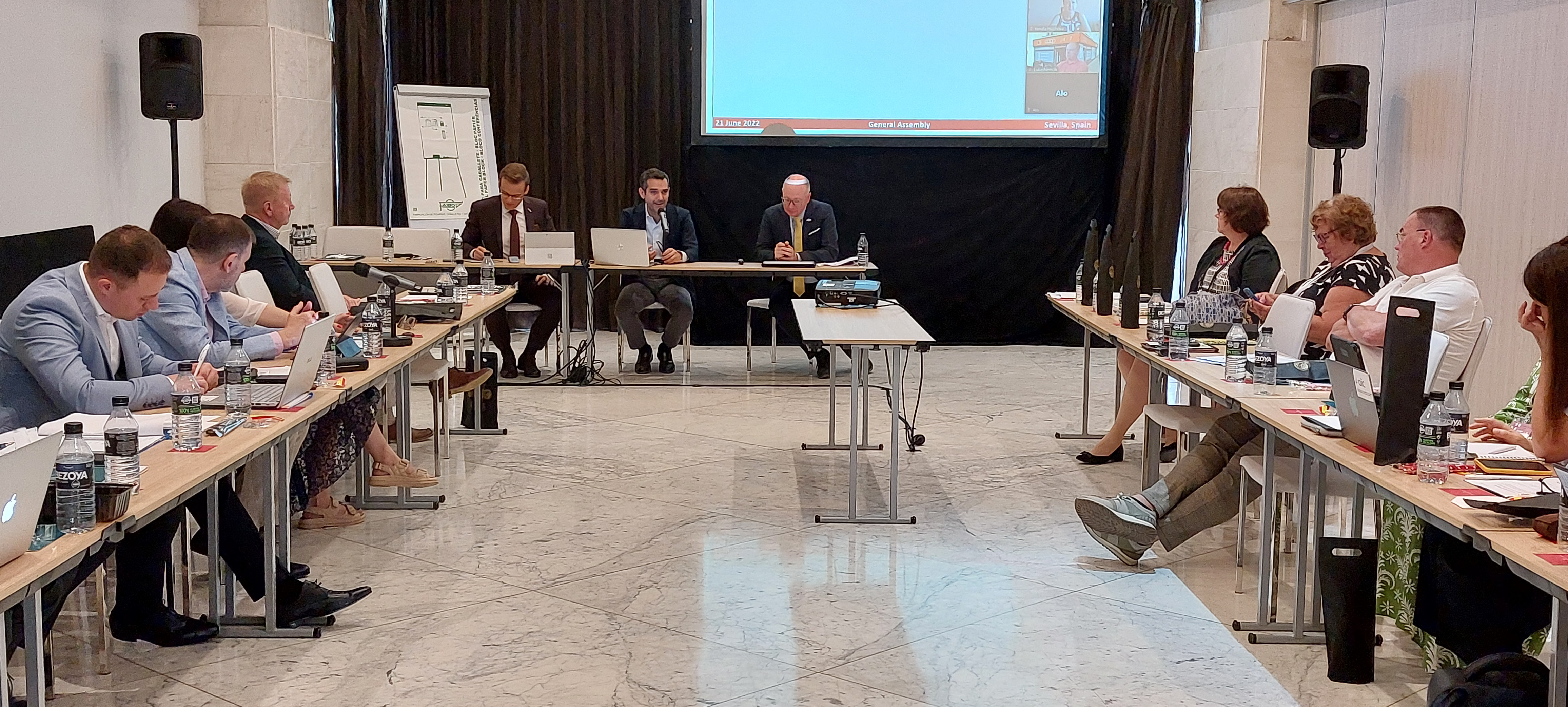 At the end of the General Assembly, a seminar on Sustainable Food Systems was held and saw the participation of relevant speakers as:
Carmen Redondo – HISPACOOP, Spain
- "Consumers' Transition to The Circular Economy and Sustainable Consumption"
Patrik Schinzel – KF/Coop Sweden
- "Rethinking Food Systems"
Juhee Lee – iCoop Korea
- "iCoop Responsibility - Healthy Consumers & the Environment"
Marjaana Saarikoski – SOK, Finland
- "Climate Action & Consumer Benefits"
Engaging the consumer for the circular economy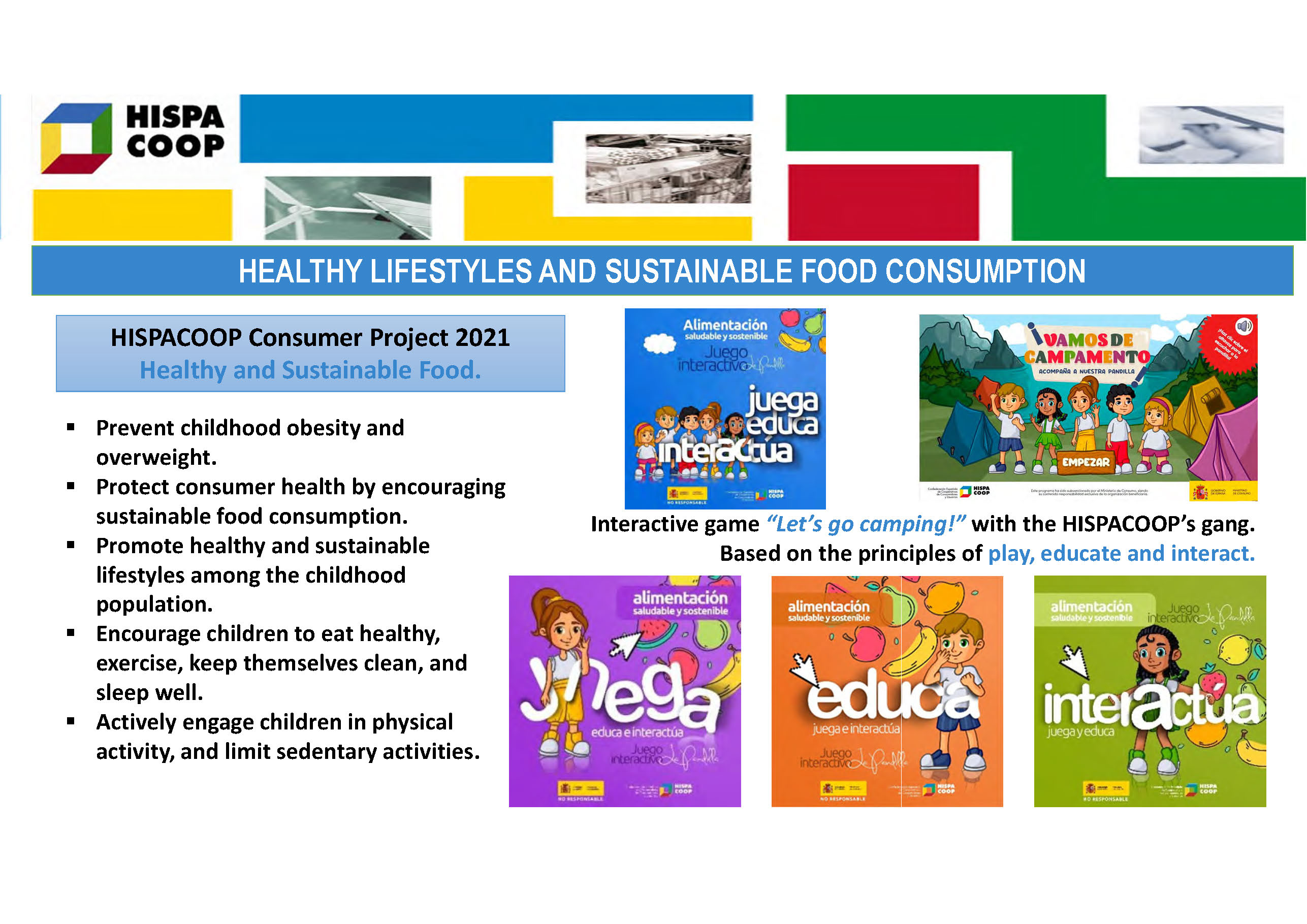 In Spain, HISPACOOP is a frontrunner in running campaigns for bringing about the consumers' transition to circular economy and sustainable consumption. The various projects, initiatives and campaigns were presented, among which the nation-wide "You close the loop. Change to the Circular Economy". It is intended to transform consumption patterns and habits and accelerate the transformation of food systems. Through their actions, HISPACOOP aims to provide consumers with tips and recommendations for living a more environmentally friendly lifestyle and to educate and promote an efficient management of resources.
Particular focus is attributed to campaigns in school whereby the youngest of consumers are informed and educated by means of educational materials, social media kits, videos and infographics developed by HISPACOOP.
Carmen Redondo also presented the various activities undertaken by Eroski and Consum – leading consumer co-operative retail chains, such as campaigns aiming to prevent, manage and recover the waste generated at their facilities and stores by promoting recycling and reuse as priority treatments.
Full presentation here
Rethinking Food Systems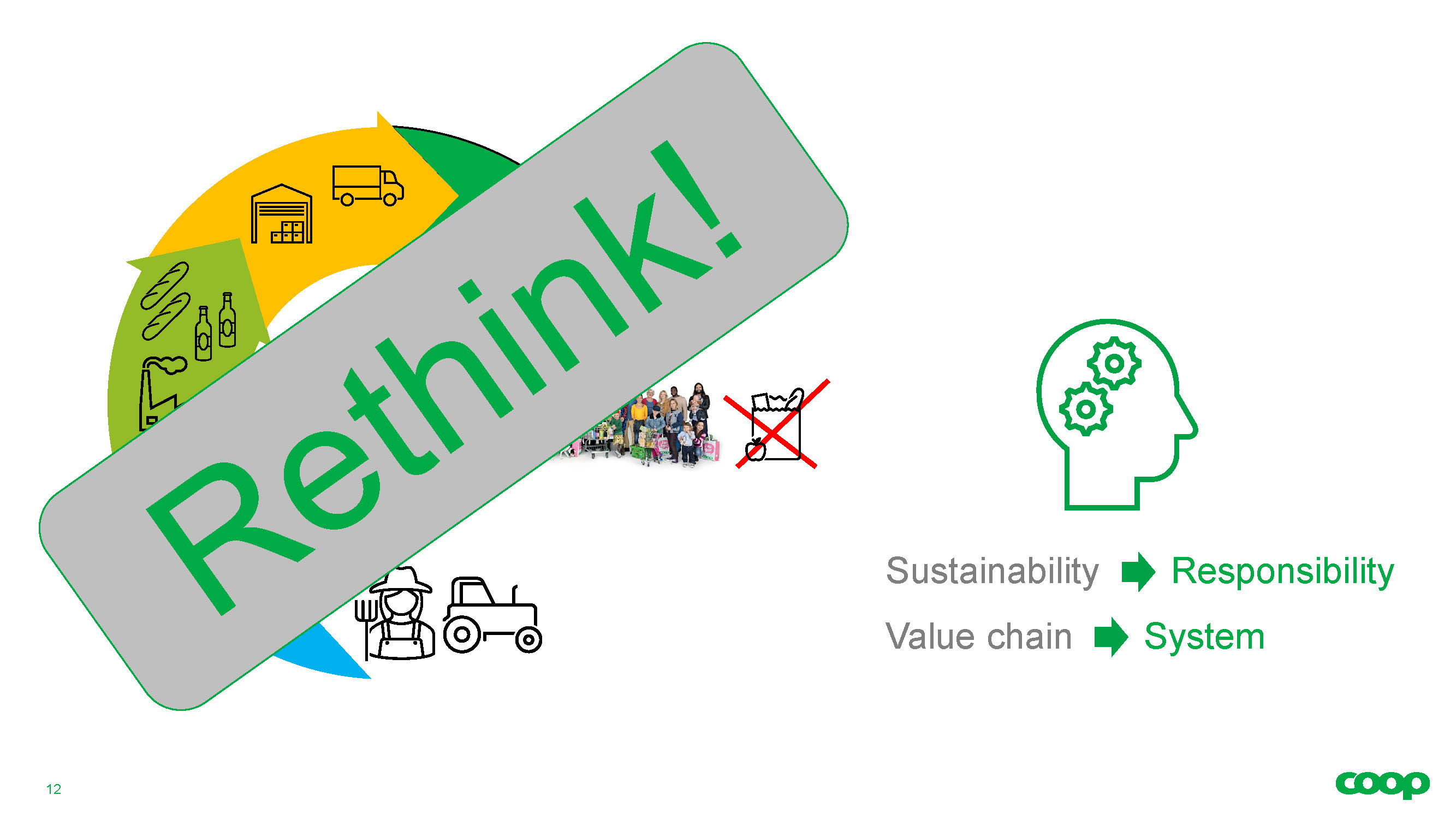 Sweden's consumer co-operatives have taken the approach of rethinking food systems rather than restructuring or optimising current supply chains. Central to this approach are redefining the concept of "value" and instilling the concepts of "responsibility" and "circularity" as foundations for the food systems to be established.
Patrik Schinzel – Chief Strategy Officer explained that the thinking behind this approach is based on the understanding that optimising or restructuring the current food value chains would not be enough to achieve the SDGs and other climate targets. Current effort is not enough, because it could decrease the use of resources from those equivalent to the current 3-4 planets to 2 planets. To have food systems which function within planetary boundaries would require redefining the concept of "value" in economic relations and operations because currently it is mostly based on the perspective of profit and therefore leads to many social, environmental and economic externalities.
Full presentation here
Healthy Consumers & Environment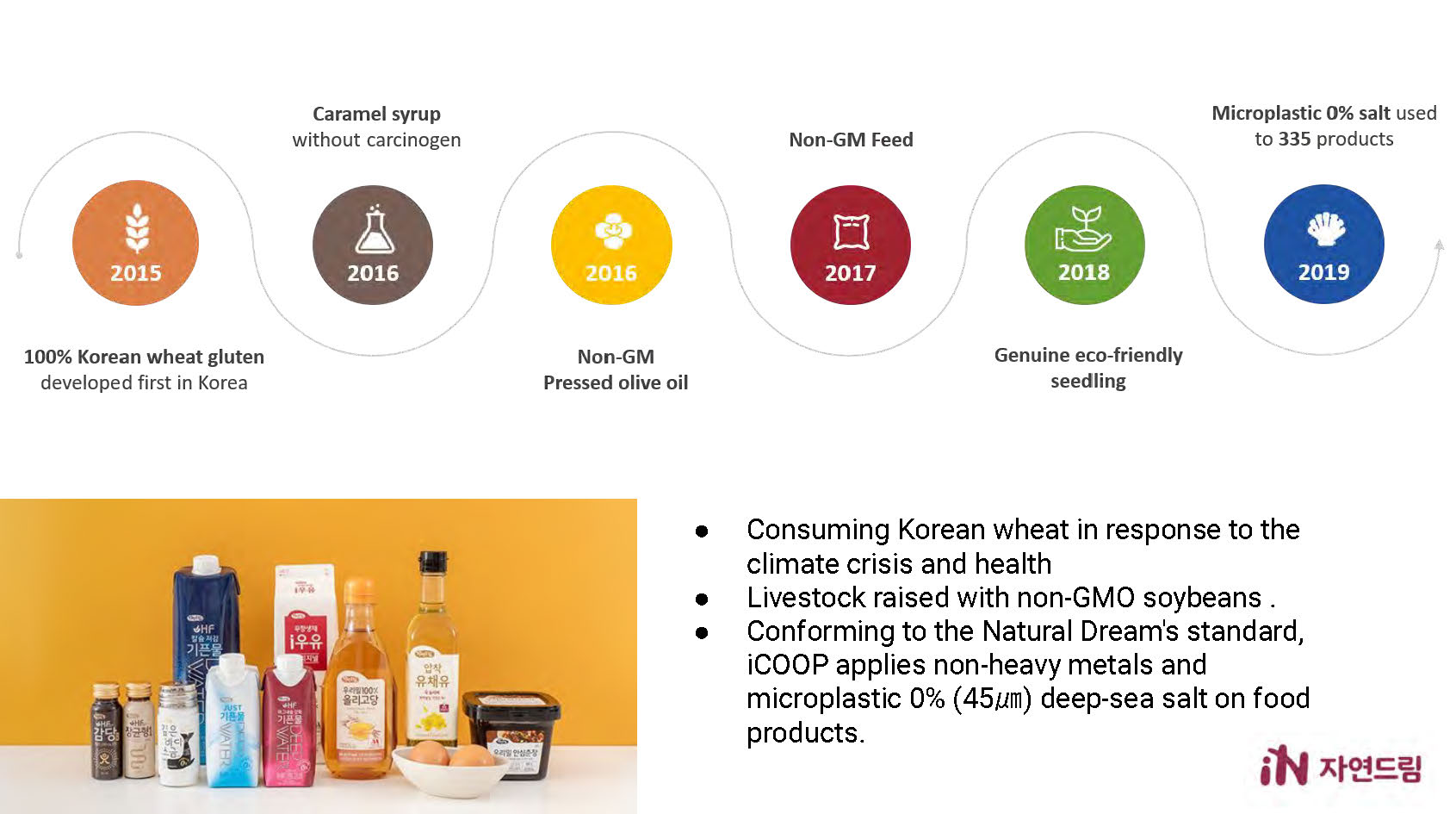 The special guest in the seminar was Juhee Lee – International Affairs Director who presented the activities of Korea's consumer co-operatives in caring for consumer's health and the environment. iCoop strategy prioritises own-brand food with high quality and inspection standards, which is produced thanks to the close co-operation between consumers and farmers. A unique approach has been the establishment of clusters called Dream Parks, which unite producers and consumers, technicians, craftsmen and scientists among others. These large complexes offer facilities for all purposes – production, testing, recreation, accommodation, cultural events, business, etc. The Dream Parks are the flagship initiative of iCoop's vision of sustainable and healthy food systems.
This is underpinned by campaigns such as "Healing People, Cooling the Planet" which aims to ensure consumers' health and the environment's protection through change of lifestyle and the combination of business practices and social activities. The own-brand lines guarantee local, quality, sustainable (eco, organic), and healthy food, thereby supporting local farmers, the national economy and Korean consumers. Two other initiatives highlighted include a carbon healing programme by farmer co-operatives and a 100% plastic recycling by the retail system.
Full presentation here
Climate Actions & Consumer Benefits
Marjaana Saarikoski – Director of Co-operative Affairs presented the frontrunner practices of SOK Finland contributing to the transition of food systems. Their overall sustainability strategy is based on driving healthy consumption, protecting nature and eliminating social inequalities across the value chain. This requires restructuring own operations and partnering with suppliers and other food actors. Concerning climate actions, SOK's analysis shows that only 2% of their products' emissions are within own operations, which has prompted assisting suppliers in setting science-based climate actions.
SOK aims to be carbon negative by 2025 by implementing these four actions: reducing climate emissions from own operations by 90% by 2030; 2. 100% renewable electricity by 2030; 3. Energy efficiency investments and 4. Compensation and carbon sequestration. This also means engaging consumers to shift dietary habits towards sustainable and responsible consumption. Priority actions include campaigns, supporting seasonality, promoting organic and providing information, especially by embracing digitalisation. Through their mobile app, SOK provides individual report to each one of their consumers about the CO2 emissions of their food basket (consumption choices) and the nutritious content in terms of salt, sugar and fats from all the products they have purchased (personalised Nutrition Calculator).
Full presentation here