Whilst acknowledging the necessity of public awareness and education for reducing food waste, we are convinced that further actions are needed to bring any meaningful results. Hence, Euro Coop is committed to the front-line when dealing with Food Loss and Waste: we actively participate in the EU Food Policy Coalition work towards policy integration and alignment at the EU-level to facilitate the transition to sustainable food systems, and we are working on the EU Platform on Food Losses and Food Waste together with other key stakeholders in order to better identify, measure, understand and find solutions to address food waste.
Consumer Co-operatives & FLW
Reducing food waste along the value chain and within own operations is an integral part of Euro Coop members' sustainability strategy , which translates to restructuring supply chains, optimising operations, establishing long-term partnerships, engaging consumers differently and more effectively. Being ethics-based, values-led and principled-driven food actors, consumer co-operatives utilise a distinct business model which converges social and environmental responsibility with economic viability.
Maximizing benefits for individual consumer-members and their local communities is the foundation of the co-operative undertakings. Our distinctiveness means our members are our owners, therefore consumer co-ops adhere to Co-op Principle V - Education, training and information and Principle VII – Concern for the Community. In other words, our responsibility goes well beyond the cash register and translates into a broad spectrum of activities aimed at changing consumer behaviour at home and in society.
The examples listed below represent some of the most commendable efforts our members have recently made toward more responsible food consumption:
SPAIN
Being the entity that brings together and coordinates consumer co-operatives in Spain, HISPACOOP is fully committed to preventing and reducing food waste by informing consumers through educational materials, social media, awareness campaigns, workshops and dedicated projects. Its dissemination strategy, aimed at improving sustainable consumption, is carried out thanks to the collaboration with institutional bodies such as the Ministry of Consumption and Ministry of Agriculture, Fisheries and Food.
HISPACOOP collaborates with other food actors and it is involved in the V Food Waste Week in Spain with activities and actions aimed at reducing food waste at home. The confederation's overarching aim is to disseminate messages and to undertake initiatives to raise consumer awareness to promote a culture of valuing food.
For more information, visit the dedicated websites:
Food waste campaigns from 2012, materials, reports, and activities for educating and informing consumers
Consumer awareness campaign on reducing waste, reusing leftovers and recycling waste
Carmen Redondo - Director of Institutional Relations clarified that "HISPACOOP's role in promoting public awareness and calling for action nation-wide, including lobbying for better legislation, is complemented by Eroski and Consum locally who are optimising their activities and directly engage consumers in-store to incentivise the reduction of FLW."
FINLAND
S Group has taken several actions to tackle food waste in its stores and restaurants in Finland, aiming to halve food waste by 2030. Products no longer in perfect condition are red-labelled and discounted at 30% or 60%. In 2021, a total of 87 million red-labelled products had been sold. Moreover, edible fruits and vegetables are collected for sale in separate and affordable bags and boxes at discounted price. S Group can also count on its 400 aid partners thanks to which usable food is also donated to charity. In addition, the Finnish chain brought to stores and restaurants of the Keskimaa Cooperative Society the so-called "Beer Cycled", a special beer whose production made use of the unsold bread of the Prisma store in Seppälä and the orange peels accumulated from the Mehustamo juice extractor.
Nina Elomaa - Senior Vice President explained that "setting ambitious targets and having the instruments to measure progress are key to success. In 2021, S Group managed to save nearly 100,000 meals and simultaneously avoid nearly 245 tonnes of CO2 emissions. But this is just a small step in our much larger sustainability ambition of becoming carbon neutral by 2025."
UNITED KINGDOM
On the business side, The Midcounties Co-operative – one of the UK's largest consumer co-ops, has partnered with the anti-food waste mobile app 'Too Good To Go' with the aim of reducing its waste footprint.
Mike Pickering - Head of Sustainability explains "At the heart of our 1 Change program lies the principle of engaging our members, colleagues and communities to build a fairer future together. Working with 'Too Good To Go' enables us to help reduce our food waste working with our members and customers through this shared sustainable solution."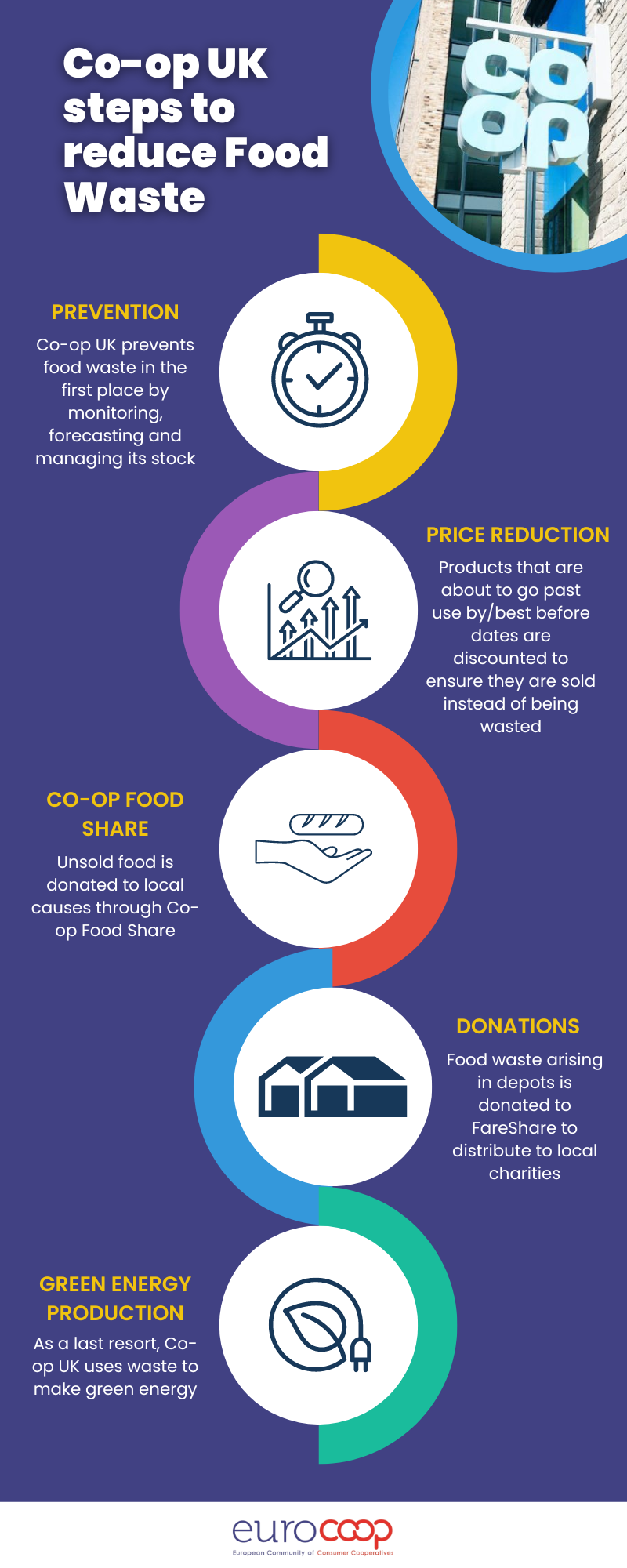 The Co-op Group - UK's leading co-op business, focuses on preventing food waste and surplus being generated at all and where unavoidable, they guarantee maximum redistribution to local food charities with the remainder used for green energy. The Group's Co-op UK's goal is to reduce by 50% its in-store and depot food waste by 2030, compared to 2015.
SWEDEN
In Sweden, Coop - the country's greenest retailer - has set a target to reduce food waste to 1% of its turnover and to incentivise consumers. Patrik Schinzel - Future Strategist explains that "properly tackling food waste and loss is at the heart of our overall ambition to rethink, redefine and restructure the value chain into a circular sustainable food system. We are also working on rewarding our 3.7 million consumer-members through our loyaltyprogram to make sustainable food choices and to maximise responsible consumption."
ITALY
Coop is prioritising partnerships through also its Buon Fine Project, whereby it donates unsold food to food charities. It aims to have 70% of its network of points of sale network included in this initiative by 2025. Coop consider to involve also 80% of private label suppliers by 2025 in its "Coop for Future" Project, an important activity to promote sustainability and reduce also resource consumption and waste.
Chiara Faenza - Head of CSR believes that "reducing food waste is undoubtedly important for overall sustainability, but equally so is helping the members of our communities who are most in need."