Euro Coop celebrates the EU Code of Conduct's sustainability journey: two years of driving sustainable change
On 5 July 2021, the European Commission marked a significant milestone as the EU
"Code of Conduct on Responsible Food Business and Marketing Practices" reached its second anniversary. This initiative was officially launched with the aim of fostering higher sustainability in the activities of frontrunner companies and associations within the food industry. Since its inception, the Code has garnered widespread support and has become an emblem of Europe's commitment to food sustainability.
The EU Code of Conduct on Responsible Food Business and Marketing Practices is one of the 27 actions outlined in the EU Farm to Fork Strategy.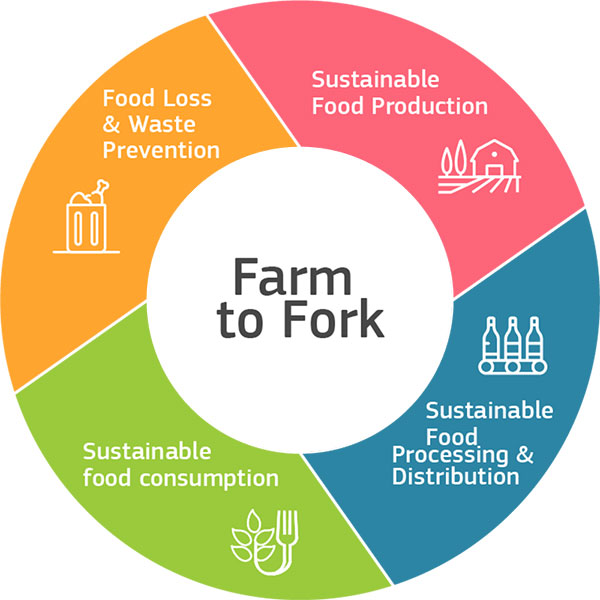 While primarily focused on the "middle part of the chain" encompassing food industry, retail, food service, and hospitality sectors, the EU Code of Conduct remains open to other stakeholders in the food chain/system.
The development of the EU Code of Conduct was a collaborative effort, bringing together a task force comprising the EU Commission, EU-level associations, NGOs, and academic institutions. This inclusive approach ensured that diverse perspectives from actors across the entire value chain were taken into account. Euro Coop, one of the key contributors, assumed the Vice-Chair position in the co-design task force and continues to hold this role in the Collaborative Platform.
Since its launch, the Code of Conduct has garnered significant support from more than 100 EU food chain representatives. This broad participation underscores the widespread recognition of the need for sustainable food practices. Euro Coop, along with its six member organisations, has proudly embraced the Code as frontrunners, aligning their commitment to sustainable food systems with the objectives of the Code. As consumer co-operatives, Euro Coop members prioritise their local communities, ensuring that environmental and social priorities are ingrained in their operations. As an EU-level entity, Euro Coop is actively responding to its obligations by implementing several initiatives aimed at reducing emissions and promoting responsible food consumption. As member-owned enterprises, consumer co-operatives hold a holistic approach to sustainability, emphasizing the integration of environmental and social considerations into their operations.
As the EU Code of Conduct on Responsible Food Business and Marketing Practices celebrates its second anniversary, it continues to play a pivotal role in driving sustainable practices across the food industry. With its inclusive design, broad support, and tangible commitments, the Code exemplifies Europe's leadership in promoting sustainable food systems. Euro Coop, through its active involvement, exemplifies the cooperative movement's dedication to creating a more sustainable future for all. By adhering to the Code's objectives, businesses can contribute to a more sustainable and resilient food system, ensuring a better future for generations to come.