Press Release: EU Code of Conduct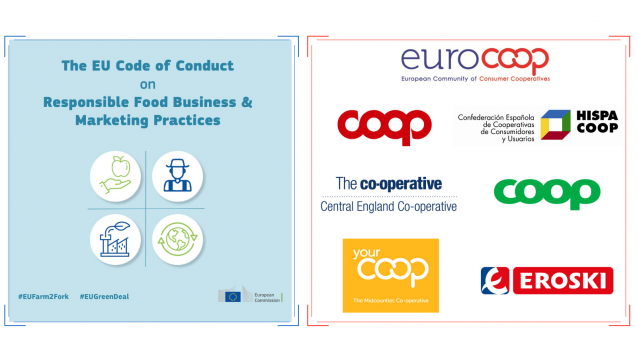 Today, the European Commission unveiled the long-awaited EU Code of Conduct on Responsible Food Business and Marketing Practices aimed at achieving a more sustainable food value chain. Euro Coop played a leading role in the Code's co-design as Vice-Chair of the process and co-rapporteur of thematic WG on sustainable food consumption patterns.
Euro Coop and six of its members became frontrunners in endorsing the Code with their signature today.
On the occasion, Secretary-General Todor Ivanov joined Independent Retail Europe Director General Else Groen and EuroCommerce Director General Christian Verschueren in making a joint statement, accessible here.
In addition, Ivanov had this to say:
"Euro Coop and our members fully endorse the Code's aspirational objectives and today we step up to show leadership. Consumer co-operatives are sustainability frontrunners by way of innovation, investment and partnerships. We have continued to excel despite the raging pandemic.
Our commitment to the co-op principles and values propels us to champion a better way of doing business for our consumer-members and the local communities. Being member-owned means care for the community is at the heart of our strategy, which guarantees a holistic approach to sustainability by which environmental and social priorities are embedded into our operations.
The wide breadth of innovation and experience from pioneering the green transition are the basis of the ambitious and tangible commitments Euro Coop members will put forward as pledges, effective immediately, ranging from empowering consumers, fighting food waste, setting science-based climate targets, or supporting local producers.
We are believers of co-operation and we stand ready to engage all stakeholders along the value chain in embracing higher sustainability performance. Policymakers' role is crucial for providing an enabling environment so businesses could flourish and maximise their potential in attaining the EU Green Deal and Farm to Fork Strategy objectives. All food operators should be supported in making their contribution in line with their scale and business model or strategy.
This is the beginning of a long journey and we are certain of our collective success."
Latest Sustainability Policy news
The European Commission continues its strong ambition of delivering on its commitments within...
Latest Sustainability Policy stories