This year's World Environment Day marks a perfect opportunity to amplify our appeal for sustainable behaviours among consumers and society at large.
Consumer co-operatives across Europe are championing the promotion of environmental stewardship, responsible consumption and consumer empowerment. Leading by example is the principle business approach for co-op retailers, be it by increasing the accessibility of healthy and sustainable products or promoting sustainable behaviour among communities. Our distinctiveness as an economic model is derived from being principle-based and value-driven, so respecting the environment is an integral part of the our movement's heritage of inspiring the sustainable management of the entire value chain: from the various levels of production, warehousing and distribution, to the points of sale and consumers' homes.
That is the reason why consumer co-ops are pioneering strategies to reimagine a greener world, championing campaigns to recreate a closer connection between the people and the food they consume, while innovating to restore ecosystems, biodiversity and ultimately drive social sustainability.

Conscious of the crucial role of plastic waste management in ensuring sustainable food systems, consumer co-operatives have taken swift actions in this field, being amongst the first ones in the retail sector to offer consumers more environmentally safe options such as cotton buds with paper sticks (Coop Norway), in-store bulk detergent dispensers and compostable coffee pods (Coop Italy), as well as refill stations for milk and dry products (Channel Islands Co-op, Scotmid Co-operative).
Coop Sweden was the country's first business to launch a plastic-free, 100% biodegradable chewing gum. In December 2020, The Co-op Group (UK) cut 8 tonnes of plastic (1.1 million pieces) by removing plastic and glitter from their entire Christmas product range. Many Euro Coop members also banned the use of microbeads from their own-brand products.
Co-op Principle V is education, training and information. This means that co-op responsibility extends beyond the checkout and translates into a broad spectrum of consumer engagement aimed at changing behaviour at household and community level in a bid to raise awareness about the environmental impact of current excessive plastic waste.
As part of their '1 Change Campaign' to tackle single use plastic, Midcounties Co-operative (UK) linked up with local schools to produce 1,000 eco-bricks which enabled them to build a Turkey Shed at Fairy Tale Farm. Plastic bottles were filled with plastic wrappers, cling film, etc., and then used as eco-bricks. Moreover, members engagement to mobilise change resulted in reducing 8 million plastic bags per year thanks to the use of compostable ones, and partnered with local community volunteering events to remove plastic waste from the natural environment.
Coop Czech partnered with the packaging company EKO-KOM and, in cooperation with the Ministry of the Environment, initiated in 2019 the 'We Sort, Sort with Us' Campaign which aimed to explain to shoppers the meaning of correct sorting, nature conservation, and the need for reusable carrier bags. Emphasis is placed on reaching out to consumers in the countryside, where Coop operates the vast majority of its 2,500 retail stores. The ambition is to contribute to a higher waste recycling rate nationwide through reduction, landfilling or incineration.
As part of the EU Commission-led Circular Plastics Alliance, Coop Italy became the only Italian large-scale retail business to make a Plastics Pledge in line with the Plastic Strategy. The CPA aims to increase the market uptake of recycled plastics, through the implementation of quantitative point actions, starting from important elements of the individual company's strategy, including design and recyclability. Coop's pledge required installing several 'seabins' to collect plastic garbage in a number of rivers, seas and lakes across the country. Seabins are an effective and efficient solution that catches waste from the largest to the microplastics working 24h a day, seven days a week. The seabin is also important for stimulating citizens' awareness and participation towards environmentally responsible behaviour. The initiative allows Coop Italy to reach its goal of saving 6,400 tons/year of virgin plastics by 2025, equal to the volume of 60 trucks. In its 'Coop for the Environment' Campaign, Coop has also relaunched and updated its environmental policy with strategic guidelines on packaging, focused on the 3Rs (reduce, recycle and reuse).
In 2020, our Spanish member Hispacoop launched an awareness-raising campaign about reducing single-use plastic products in the framework of a dedicated programme to promote sustainable consumption habits and circular economy models. Spanish consumer co-ops educate consumers about the new legislation on single-use plastics to promote efforts towards more sustainable alternatives and eco-friendly consumption, focusing on the top 10 single-use plastics found on European beaches as a major threat to marine and coastal biodiversity. Under the slogan 'You Close the Loop. Change to the Circular Economy', Hispacoop launched awareness activities such as school contests across the country and educational kits to encourage responsible and sustainable behaviours among children, promote a reduction in plastic products consumption, and inform about the 3Rs Principle.

Consumer co-ops maximise transparency towards consumers about corporate sourcing protocols and prioritise information campaigns in the belief that we, as a society, have to attain greater sustainability and halt the depletion of natural resources.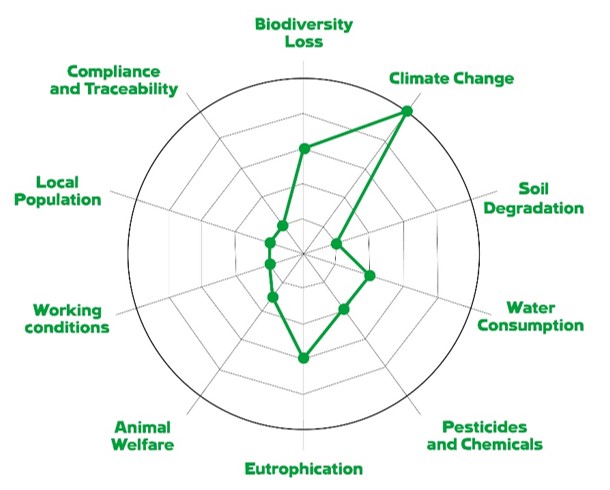 75 years have passed since Coop Sweden started sharing with consumers content declarations on food products through ingredient labels. They were the country's first business to do so. In 2021, Coop celebrated with an equally important and revolutionary step: the Sustainability Declaration. After two years of work to develop the method of reporting based on recognized research and official data, today consumers can simply scan a barcode and receive information about the product's footprint based on 10 parameters (developed by WWF), including climate, environment and society. The Sustainability Declaration has a scale between one and five for each parameter: the lower the mark, the better sustainability performance the product is judged to have. This digital label will not only help consumers eat more sustainably, but also guide the development of Coop's range of own-products.
Hispacoop, this time in collaboration with consumer co-ops Eroski, Consum and small food co-ops, launched the campaign 'Join in Responsible Consumption. Reduce, Reuse, Recycle', which aims to inform and educate about the importance of responsible consumption, the issues of food waste reduction, resources reuse and general litter disposal. In 2017 and 2018, the Spanish consumer co-ops carried out information dissemination at the points of sale in order to raise consumer awareness on reducing waste, especially food waste, reusing sources and recycling waste generated at home.

Co-op Group unveiled an ambitious new climate change action plan to achieve net zero status by 2040 – 10 years ahead of the Government's own ambition. One of the Group's other branches – Co-op Funeralcare has been carbon-neutral since 2011. The plan sets out targets, endorsed by the Science-based Targets Initiative, to cap global temperature increases and meet the goals of the Paris Agreement. The Co-op Power's network of UK wind farms will play a central role in delivering the Group's pledge.
Co-op's Ten-Point Climate Plan includes making long-term changes, clear short-term limestones, reducing carbon from operations and products, consumer engagement towards lower carbon lifestyles, helping suppliers and farmers, campaigning for climate action, amongst others.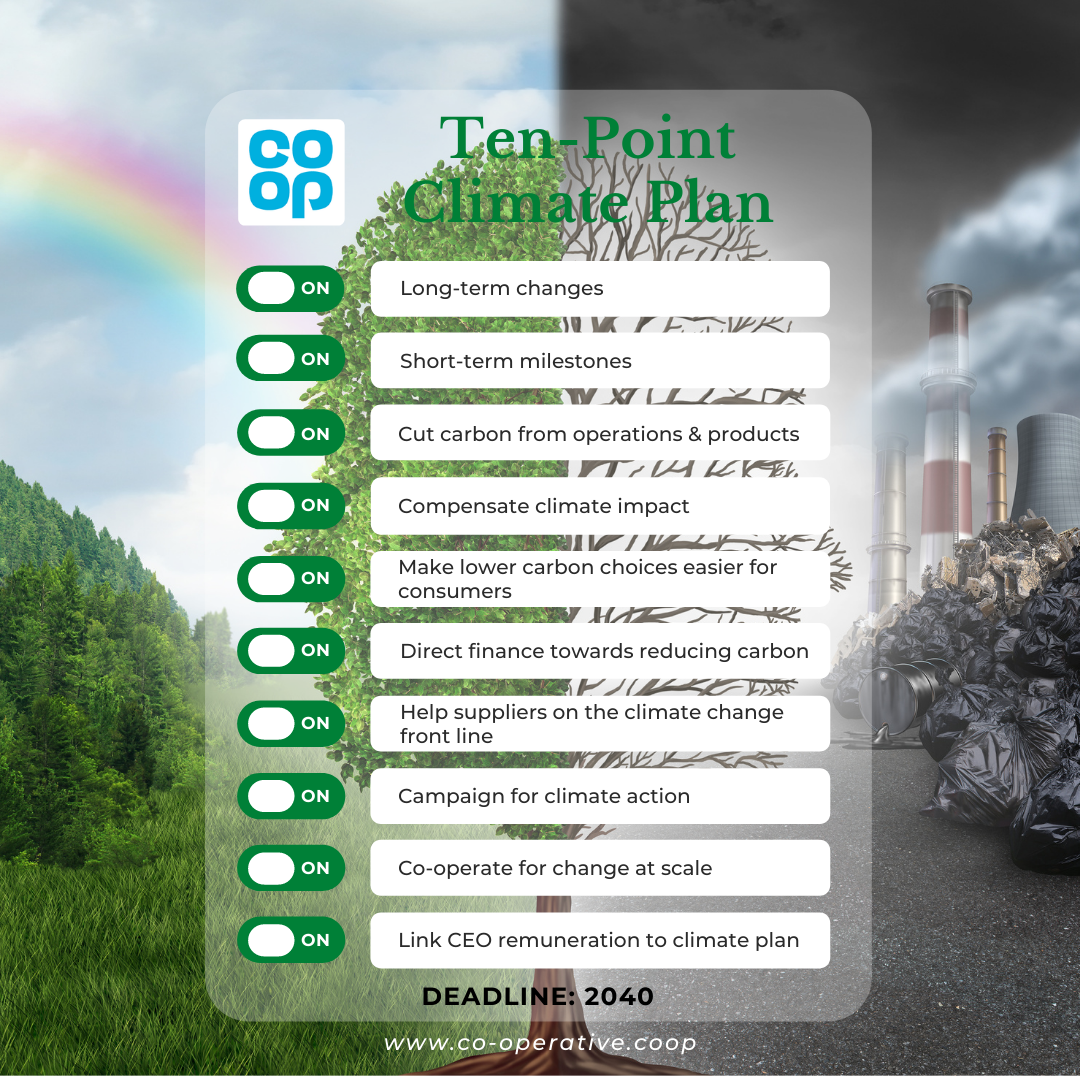 In Finland, co-operative and market leader S Group strides towards becoming the country's first carbon-negative company by 2025 as part of their strategy "Making Finland a Better Place to Live", which they intend to achieve through:
1. Engaging consumers towards sustainable consumption patterns
2. Supporting suppliers and partners towards climate targets of their own
S Group makes impressive use of big data from their 2.5 million consumers' shopping habits by analysing and returning them in a visually simple manner demonstrating each person's sustainability impact and nutritional intake based on their food choices. Consumers access their individual reports through the co-op mobile app. S Group believes such efforts help consumers better understand their role and contribution to the circular economy through sustainable consumption and reducing food waste.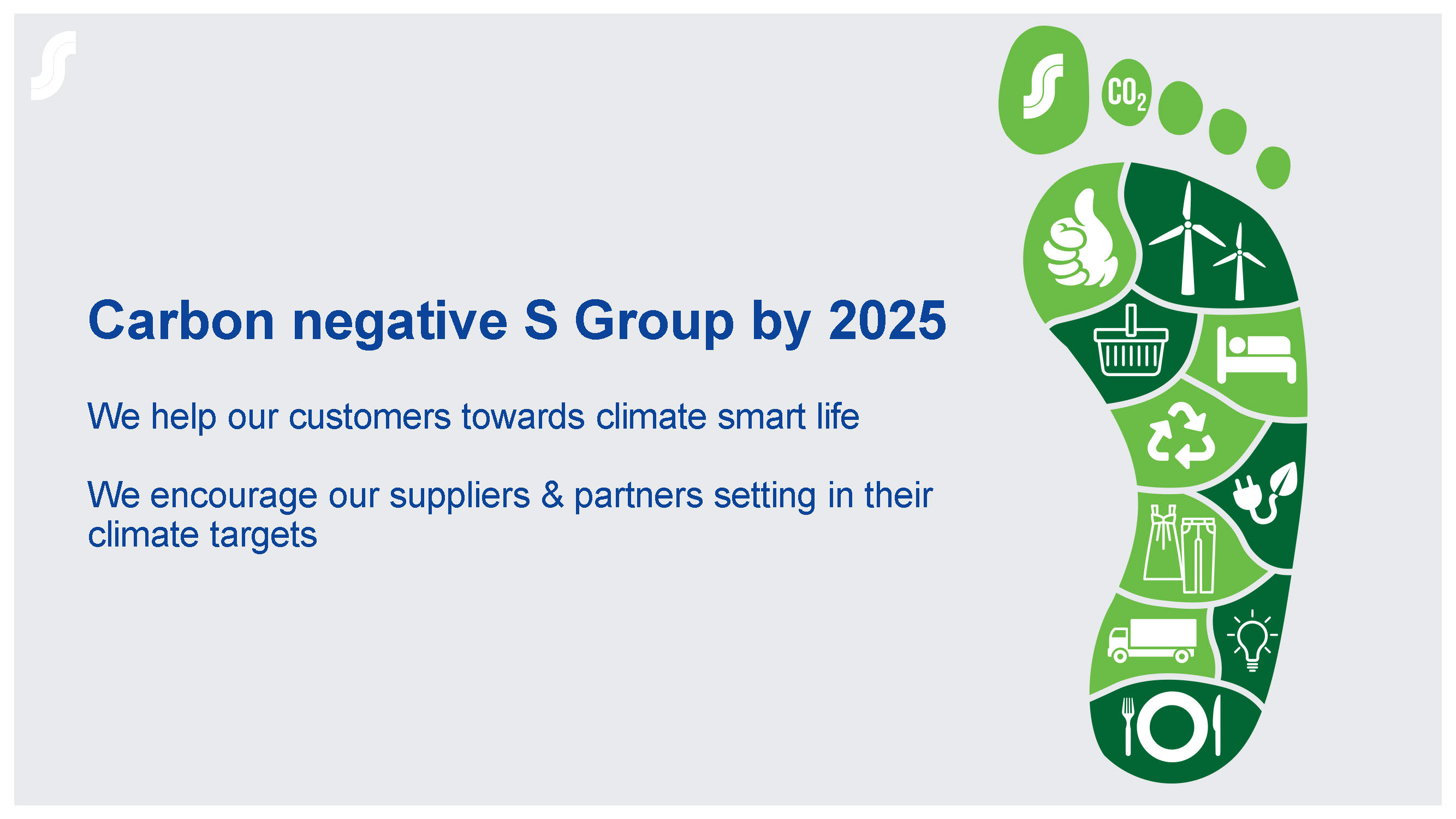 S Group's Big Deal Campaign to save 1,000,000 tonnes of CO2 emissions by 2030 also sees optimization of business operations, such as reducing 90% of own emissions, switching to 100% renewable electricity, radical energy efficiency and implementing compensation and carbon sequestration schemes. However, since the internal footprint accounts just for 2% of their entire value chain emissions, the S Group has increasingly focused on cutting external emissions by supporting their suppliers towards setting climate targets and signing up to the CDP Supply Chain program. Primary producers are supported through e-learning of carbon farming.
Coop Italy's environmental policy was developed almost 30 years ago and continues to be systematically revised in order to include new ambitious goals. This translates into concrete actions first of all on Coop-branded products which, whenever possible, meet eco-compatibility criteria, being designed and manufactured with the aim of minimizing the waste of resources and the emission of environmentally harmful substances. Not less important is the store management and transport of goods, reducing emissions, reducing waste and involving stakeholders in the production chain.