Euro Coop contribution on the Revision of EU animal welfare legislation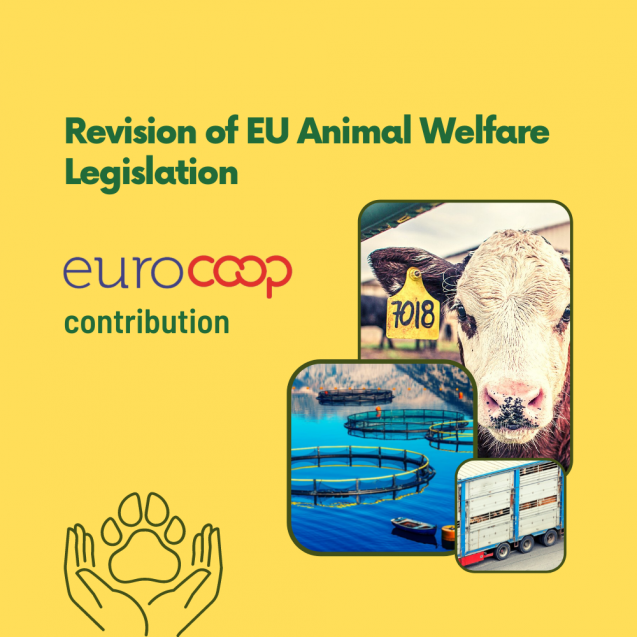 After adopting the Farm to Fork strategy in 2020, the European Commission launched a public consultation on the revision of the EU legislation on animal welfare. The main goals of this revision are:
contributing to a more sustainable EU food chain

supporting a fair competition for EU businesses in the single market

establishing a higher level of EU animal welfare, aligning the current legislation to the latest scientific evidence
​
Euro Coop welcomed this initiative and provided the Commission with its feedback on the existing animal welfare standards and the possible legislative improvements as presented in the public consultation, in particular the inclusion of species not yet covered under EU rules.
To this intent, Euro Coop acknowledges that the increased attention to enhancing animal welfare protection is a means to contribute to a more sustainable food system and greater human health. However, it remains crucial to provide consumers with clearer and more transparent information on the conditions in which animals are farmed, transported and slaughtered in the EU. In particular, Euro Coop supports the development of a multi-level EU animal welfare label to be applied to all products of animal origin on the market, in order to empower consumers to make informed choices.
In addition, Euro Coop agrees on the necessity to take action and address the unnecessary suffering caused by the transport of live animals, in particular between EU and non-EU countries. More stringent rules should be put in place in order to prevent injury and/or journeys longer than 8 hours, while further assessment into the possibility of trading meat and carcasses only should continue. Euro Coop looks forward to having more resources allocated to enable more effective monitoring by national authorities, and the recruitment of skilled people for ensuring proper handling of animals in all contexts.
Any stakeholder directly affected by the legislation can still give its contribution until January, 21st by clicking here.
Latest Sustainability Policy news
Latest Sustainability Policy stories