Call for Peace Open Letter from Euro Coop President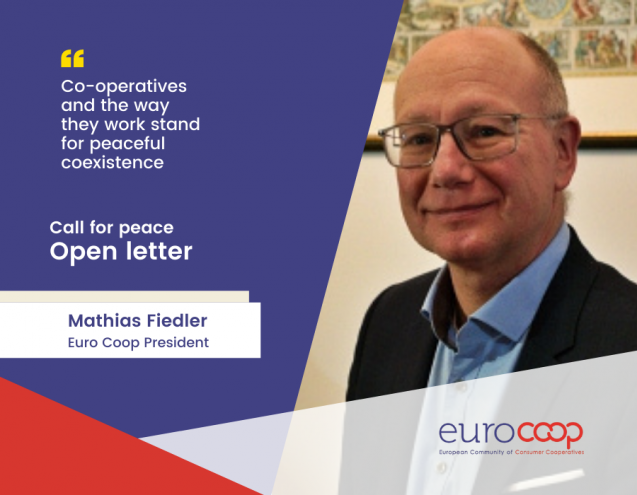 Brussels, 25 February 2022
Dear co-operators,
The European consumer co-operatives are very concerned about developments in eastern Ukraine and hope that a way can be found to stop the war and resolve this crisis through diplomacy.
Co-operatives and the way they work stand for peaceful coexistence, for co-operation, as explicitly stated by the General Assembly of the International Co-operative Alliance yet again in Kigali in 2019. Peace is an essential prerequisite for productive coexistence.1
Co-operatives, and consumer co-operatives, in particular, put individuals and their needs at the forefront of their activities. Consumer co-operatives connect people, regardless of origin, religion, gender or nationality. As a neutral non-governmental organisation, we are particularly concerned about the people who are threatened by further escalation. Life, health, property, the supply of essential goods is acutely threatened. Warlike conflicts always have a considerable impact on the civilian population, so war must be avoided.
As an organisation representing both the Ukrainian and Russian consumer co-operative movements, we call on all leaders not to slacken in their efforts to return to diplomacy.
Co-operatively,
Mathias Fiedler
President
1 https://www.ica.coop/en/media/library/ica-declaration-positive-peace-through-cooperatives
Latest Co-op Distinctiveness news
Latest Co-op Distinctiveness stories