The construction of the store took place between April and December 2022 on the site of the original old store. One of the significant advantages of the new building, which includes a warehouse, is its timeless use of technology, leading to increased sustainability and energy savings. Coop Czech's commitment to sustainability is further demonstrated through the building's innovative use of a massive supporting wooden structure and a green-roofed warehouse, which reduces the amount of mass contributing to overheating in the summer. The Coop Czech store's architectural design is also noteworthy, making it a standout feature in the city.
In addition to this recognition, the Pivovar Lednice and Resort Eisgrub complex, which includes a Coop Czech store, has won first place in the civic amenities category of the 2022 Construction of the South Moravian Region contest. The Pivovar Lednice and Resort Eisgrub complex not only provides exceptional amenities but also complements the natural beauty of the surrounding area. The Coop Czech store, in particular, was designed to offer customers a welcoming and modern shopping experience, while also promoting sustainable and ethical consumption practices.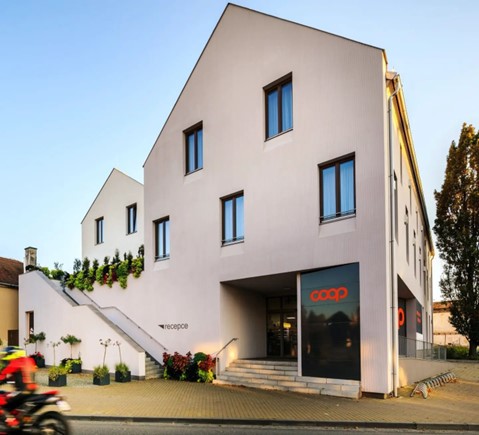 These achievements serve as an inspiration to others in the industry to follow their lead and deliver innovative projects that enhance the quality of life in local communities. Coop Czech's success in both the Wooden Building of the Year competition and the Construction of the South Moravian Region contest is a testament to their dedication to sustainability, innovative design, and community service. The Coop Czech store in Hustopeče and the Pivovar Lednice and Resort Eisgrub complex are shining examples of how businesses can operate in an environmentally responsible manner while still meeting the needs of their customers. By prioritising sustainability and investing in innovative technology, Coop Czech has demonstrated its commitment to creating environmentally friendly structures that benefit the community.