Consumer Co-operatives Worldwide (CCW), the global sectoral organisation of the International Co-operative Alliance, which brings together consumer co-operatives across the globe, also congratulated Euro Coop on the Anniversary through a written address by Petar Stefanov – CCW President and long-time Vice-President and Board member of Euro Coop. In his address, he stressed that as part of the global co-operative movement, which has preserved and upholds values such as self-help, self-responsibility, democracy, equality, equity and solidarity, consumer co-operatives are providing significant contribution to the creation of a future, which ensures peace, prosperity and tolerance for all European citizens.
The Opening Ceremony was concluded with an awards ceremony honouring past Euro Coop officials, who have made exceptional contribution to the Association's progress. Massimo Bongiovanni handed out the "Builders of Euro Coop" Awards to two Euro Coop Presidents: Anne Santamäki – SOK, Finland (2006-2010) and Duncan Bowdler – the Co-operative Group, UK (2012-2016); and two Secretary-Generals: Caroline Naett (1995-2002) and Rodrigo Gouveia (2006-2013).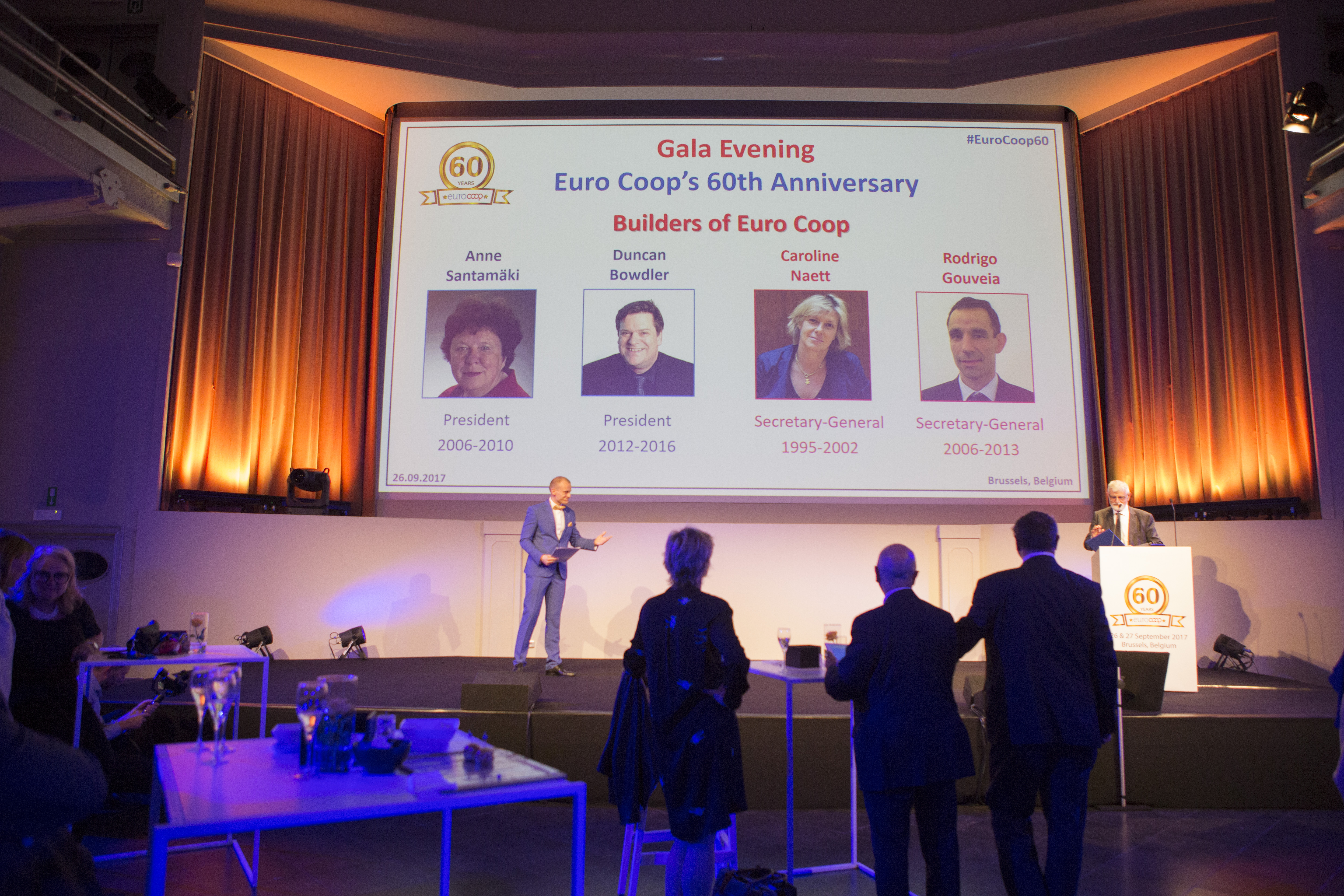 Conference - 27 September 2017
The Anniversary's second day provided a Conference "Consumer Co-operatives: the Power of People-First" explored two major themes: the contribution of consumer co-operatives in Europe's socio-economic development; and the responsibility of consumer co-operatives in the future of retail and consumer empowerment.
The Conference was opened by Massimo Bongiovanni (ANCC-Coop, Italy) - Euro Coop President who shared his views on the difficult task of consumer co-operatives to be both economically successful and member-centered enterprises. He is confident that co-operatives are keeping up with the fast growing digital revolution that is shaping new consumption and distribution patterns.
The consumer co-operative family was honoured by the presence of Jean-Louis Bancel – President of Cooperatives Europe, the cross-sectoral umbrella co-operative organisation in Europe. In his speech, President Bancel identified the top priority for co-operatives: enhance the relationships between the co-operative movement and Europe by overcoming today's challenges together. Diversity is not a burden, but an added value. Co-operatives should support diversity by developing common goals, actions and dreams and always put "people first'. Moreover, the President urged consumer co-operatives to address global issues such as health, security and the digital revolution. The co-op model has to be at the forefront and support innovation, providing their members with the best technologies and supporting a collaborative and circular economy.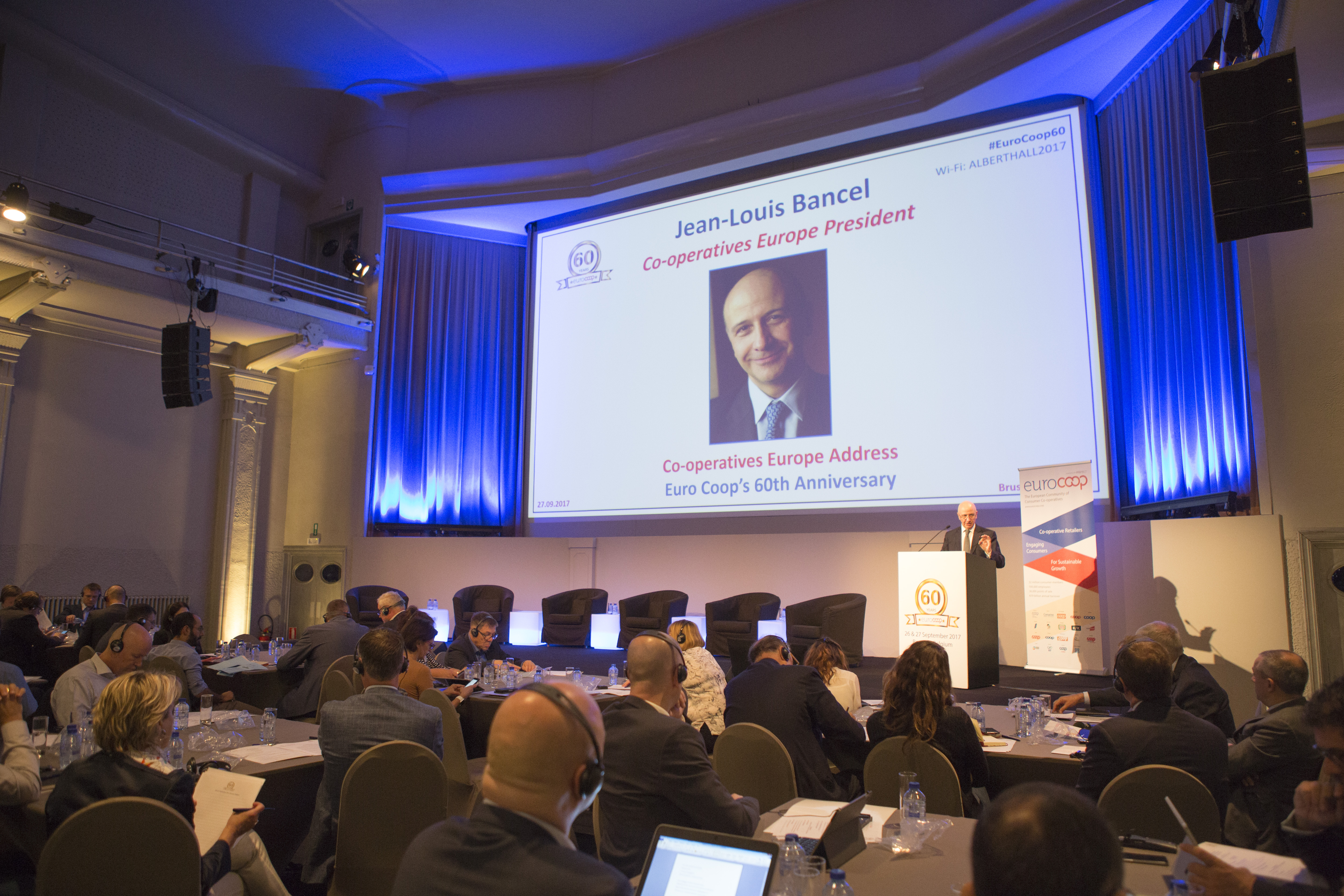 The Conference's keynote speech was delivered by Dr. Linda Shaw – Associate of the Co-operative College, UK and long-time friend to consumer co-operatives. Professor Shaw provided an excellent synthesis of the history of the consumer co-operative model, established by the Rochdale Pioneers, and focusing on the last six decades since the establishment of the European Community of Consumer Co-operatives in Brussels in 1957. Euro Coop, as the Community is known, was born out of the interest of national consumer co-operative organisations to pursue the 6th Co-operative Principle "Co-operation among Co-operatives" and until today, is the only platform galvanizing the European consumer co-operative movement.
The Conference's first thematic panel explored the role and contribution of consumer co-operatives and the co-operative business model in building a social and economic Europe which is inclusive, accountable and sustainable. Participants included: Euro Coop representatives – Colin Macleod (Vice-President, UK) and Anne Santamäki (International Co-operative Alliance Board member and former Euro Coop President, FI); Member of European Parliament Jens Nilsson (SE); European Commission's Patrick Klein – Team Leader of Social Economy; and European Economic and Social Committee's Peter Schmidt – President of the Permanent Study Group on Sustainable Food Systems. The session was moderator by Maria Laura Franciosi – founder of Press Club Brussels.
Colin Macleod stressed the importance of stronger follow-up actions by the European Commission in implementing the policy recommendations of the "Fostering Co-operatives" Working Group, both on macro and micro level so as to unshackle the full potential of the co-operative model. In time of low confidence in the EU establishment, the Commission should seek the support of current and new co-operatives to help rebuild a sense of community in cities, towns, and neighbourhoods across Europe.
Anne Santamäki reinforced the power of consumer co-operatives in an environment which does not restrict their potential, by presenting Finland's example, where SOK's strategy for success has been built on four principles: 1) for the good of society, 2) addressing climate change, 3) ethical operations, and 4) ensuring well-being and health of consumers. When a business' strives to excel in all these areas, success is a matter of time.
Peter Schmidt, a specialist in supply chain issues, highlighted the importance of the co-operative business model in its creation of value in the supply chain in Europe. He identified that one of the biggest woes facing Europe's food system are economic models which prioritize low prices, because that is how value is most easily destroyed. There is a strong need for alternatives to "business as usual" and consumer co-operatives provide this alternative by prioritizing the person before capital in an environment which increasingly has businesses doing the opposite.
Patrick Klein, an expert in social economy, confessed that the co-operative model should be more strongly promoted, especially within the education system. The Commission has helped establish a pilot project for transferring businesses to co-operatives and that it is showing good results. While still within the realm of the social economy, the co-operative agenda will stay on priority list of the Commission's work in this field.
The Anniversary was an opportunity to revisit the history of consumer co-operatives and to explore solutions to today's challenges in order to build a better future, but it also a case study of a consumer co-operative start-up: Bees Coop from Brussels. Enrico de Sanso presented the evolution of the consumer co-operative, which was founded by a group of young pioneers with an alternative vision for the established food retail system in Belgium. Driven out of the desire to provide quality food in a fair and sustainable manner, Bees Coop has expanded to 1500 members, a brand new enlarged store of 650 sq.m. and an increasing product assortment.
The Conference's second panel was dedicated to the opportunities of digitalization in shaping the future of retail and consumer empowerment, and the success of consumer co-operatives in leading the way. Panelists included Euro Coop members – Lasse Bolander (President of Coop Denmark) and Fred Bosch – CEO of Coop Netherlands; European Commission's Carlo Pettinelli – Director of Consumer Environmental and Health Technologies, DG Internal Market, Industry, Entrepreneurship and SMEs (GROW); and Ursula Pachl – Deputy Director-General of BEUC. The session was moderator by Georgi Gotev – Senior Editor, EurActiv.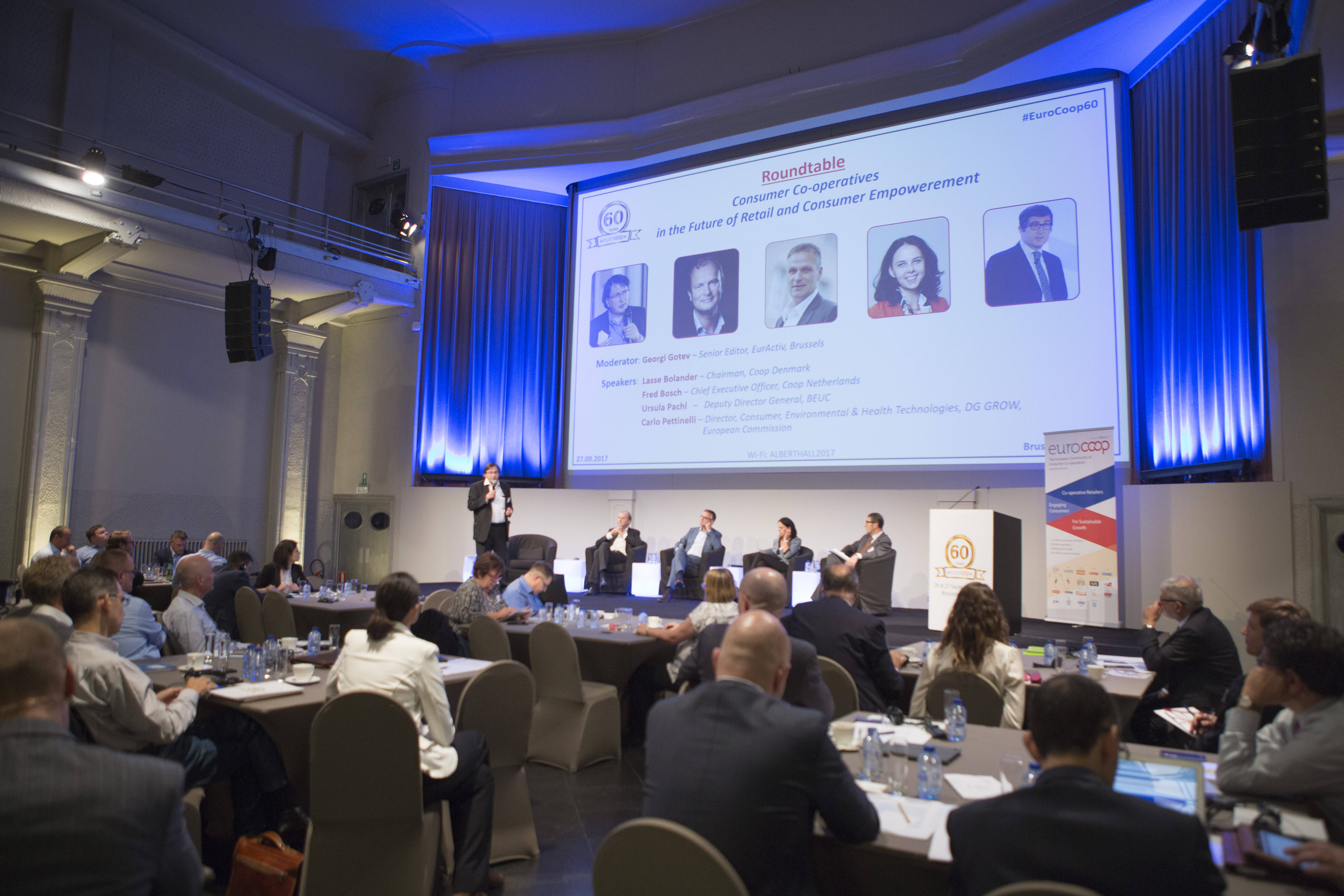 The key messages highlighted in the panel included the retailers' embracing of digitalization in innovating the shopping experience for consumers, as well as reinventing their individual approach to consumers; while consumers today being as informed and as demanding as ever due to the abundance of information made available through digital channels. It is a circle where retailers attempt to identify new consumer trends and respond to them, thus further triggering new consumer behaviour.
Lasse Bolander highlighted that Coop Denmark's operations are always based on the consumers' interests, both immediate (quality goods at reasonable prices) and long-term (sustainable supply chains, traceability, local development). He also sees a responsibility of Coop to educate and inform their consumer-members of as wide as possible issues related to food. He explained the success of Coop, which has been a market leader in Denmark "since forever" in that Coop pursues objectives shaped by its consumer-members, whom they never sell out. He attributed many of Coop's innovations, such as pioneering in organic food and phasing out chemicals, to the co-operative model, which allows the business to be owned by the consumers. People believe in Coop, because it serves a higher purpose. Bolander believes that the moment Coop stops doing that, it will be the beginning of the end, since consumer trust is part of Coop's DNA.
Fred Bosch shared a personal experience of using the mobile apps of the so-called sharing economy while traveling abroad. He found the experience to be so much more user-friendly and efficient than conventional ways. This is why retailers should fully embrace the new technologies, because consumers always look for more modern ways of shopping and rate the success of a business by its online presence. Coop Netherlands is engaged in e-commerce, and while profitability is still unstable, it greatly increases the visibility – which is vital for consumers and social perception.
Ursula Pachl welcomed the leading examples of consumer co-operatives as they are directly related to the expectations of the BEUC (The European Consumer Organisations), namely: responsible consumption and avoiding food waste, healthier lifestyles, promoting ethical and sustainable choice, transparent pricing, and labelling as an instrument for quality guarantee. She named the role of retailers as gatekeepers of access to food for households, so consumer co-operatives' track record of pioneer and innovation examples is a main contributor to safeguarding and empowering consumers.
Carlo Pettinelli provided the view of the European Commission, specifically to the supply chain of food in Europe. Consumer co-operatives, as engaged in retail, are an integral part of the supply chain and a main contributor for its stability through their successful examples, which, as mentioned earlier, can be attributed to their governance and ownership model. The role of the Commission is to maintain the diversity amongst the operators so as to guarantee the interests of 500 million stakeholders. For this purpose, the Commission established the High Level Forum for Better Functioning of the Food Supply Chain, where Euro Coop has been active from the very beginning. Issues under discussion there are unfair trading practices (UTPs), dual quality, food security, and of course, the overall sustainability. Consumer co-operatives are primary-level actors which contribute to the solution to all these issues.
On behalf of Massimo Bongiovanni – Euro Coop President, Todor Ivanov – Secretary General thanked all the speakers and guests for their participation and closed the Anniversary Conference.