S Group makes impressive use of big data from their 2.5 million consumers' shopping habits by analysing and returning them in a visually simple manner demonstrating each person's sustainability impact and nutritional intake based on their food choices. This information is reported back to each individual through the co-op mobile app. S Group believes such efforts help consumers better understand their individual role and contribution to the circular economy through sustainable consumption and reducing food waste.
S Group's Big Deal Campaign to save 1,000,000 tonnes of CO2 emissions by 2030 also sees optimization of business operations, such as reducing 90% of own emissions, switching to 100% renewable electricity, radical energy efficiency and implementing compensation and carbon sequestration schemes. However, since the internal footprint accounts just for 2% of their entire value chain emissions, the S Group have increasingly focused on cutting external emissions by supporting their suppliers towards setting climate targets and signing up to the CDP Supply Chain program. Primary producers are supported through e-learning of carbon farming.
II. Midcounties Co-op: Championing Consumer Engagement towards 1Change
Mike Pickering – CSR Manager at the Midcounties Co-operative Society, UK presented their 1Change Programme which has significantly bolstered the consumer co-op's sustainability performance by engaging consumers towards cutting food waste, increasing energy efficiency and most importantly reinforcing consumers' sense of responsibility towards the green transition at individual and community level.
The 1Change Programme is based on the simple principle of acting upon members' priorities. Feedback was collected from over 500,000 consumer-members (77% of all), who were asked to prioritise the 1Change they wish to see in their community.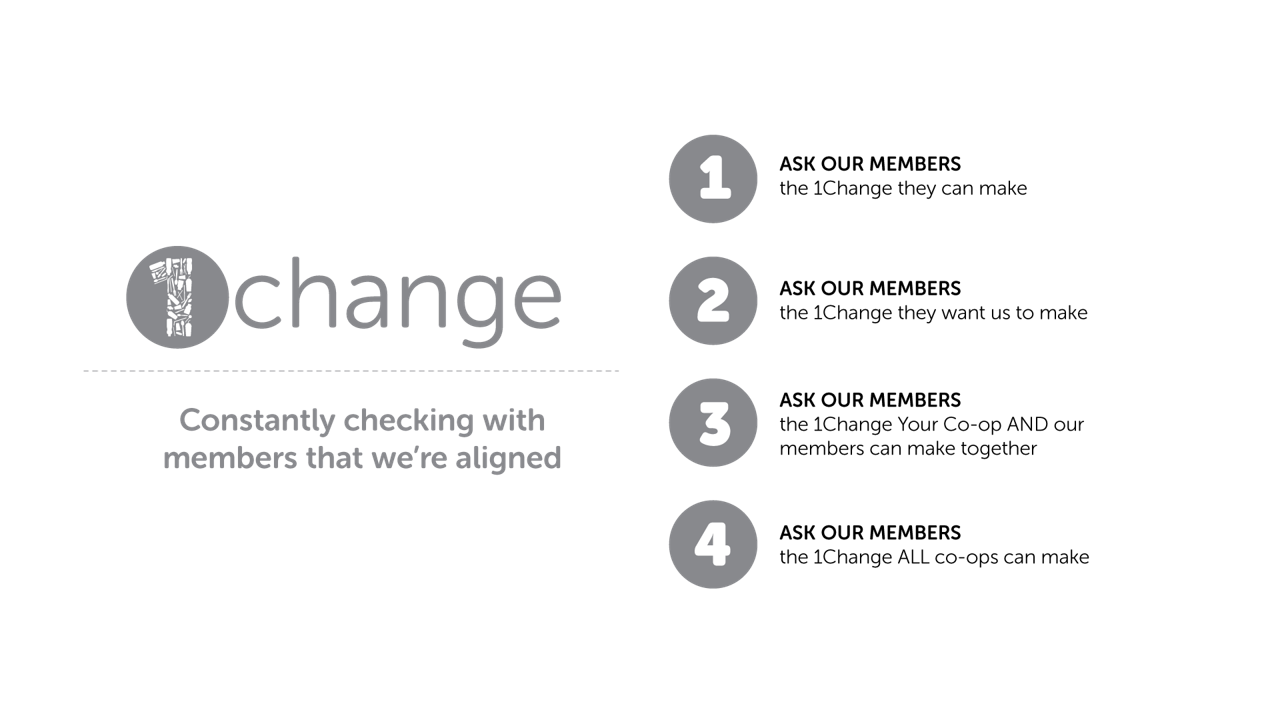 Overwhelmingly, waste reduction, specifically plastics, was the top priority. Midcounties Co-op have responded by engaging over 1,000 pledges to tackle single-use plastics; optimising their product assortment to offer more sustainable food; increasing consumer engagement on the importance of avoiding food waste and providing practical advice; replacing single-use plastics in their supply chain with 99% recycled material, saving 2 tonnes of plastic annually; and partnering with environmental ambassadors to raise promote sustainable lifestyles among the community.
Moreover, Midcounties is an energy producer and provider and they have set a 5-year target of reducing by 50% their CO2 emissions across the entire value chain. They have already achieved a reduction of 11% and are increasingly empowering consumers to measure their own environmental footprint. With the help of the WWF online calculator, consumers can see their food choices and lifestyle emissions and compare it to what it should. By supporting circular economy principles, Midcounties have developed a community model of responsibility across 20 regional communities involving schools, members, community partners and colleagues.
III. HISPACOOP: Empowering Consumers to Close the Circularity Loop
Carmen Redondo Borge – Institutional Relations Director at HISPACOOP presented the Spanish consumer co-operatives' awareness-raising and educational campaigns aimed at empowering consumers and providing them with relevant information to enhance their participation in the circular economy. This includes explaining the functioning, the benefits, and principles of the circular model.
HISPACOOP's annual national campaigns aim to create a change of culture in consumption patterns by explaining the gravity of the environmental challenges and by providing practical everyday advice how to contribute to cutting plastics, improving recycling, avoiding food waste and increasing energy efficiency in households. These campaigns are promoted via different media and forms: magazines, newspapers, online, in-store, and TV. Moreover, education materials are developed for the young consumers and campaigns are undertaken on school campuses in order to educate children on the importance of healthy eating, physical activity and the principle of sustainability.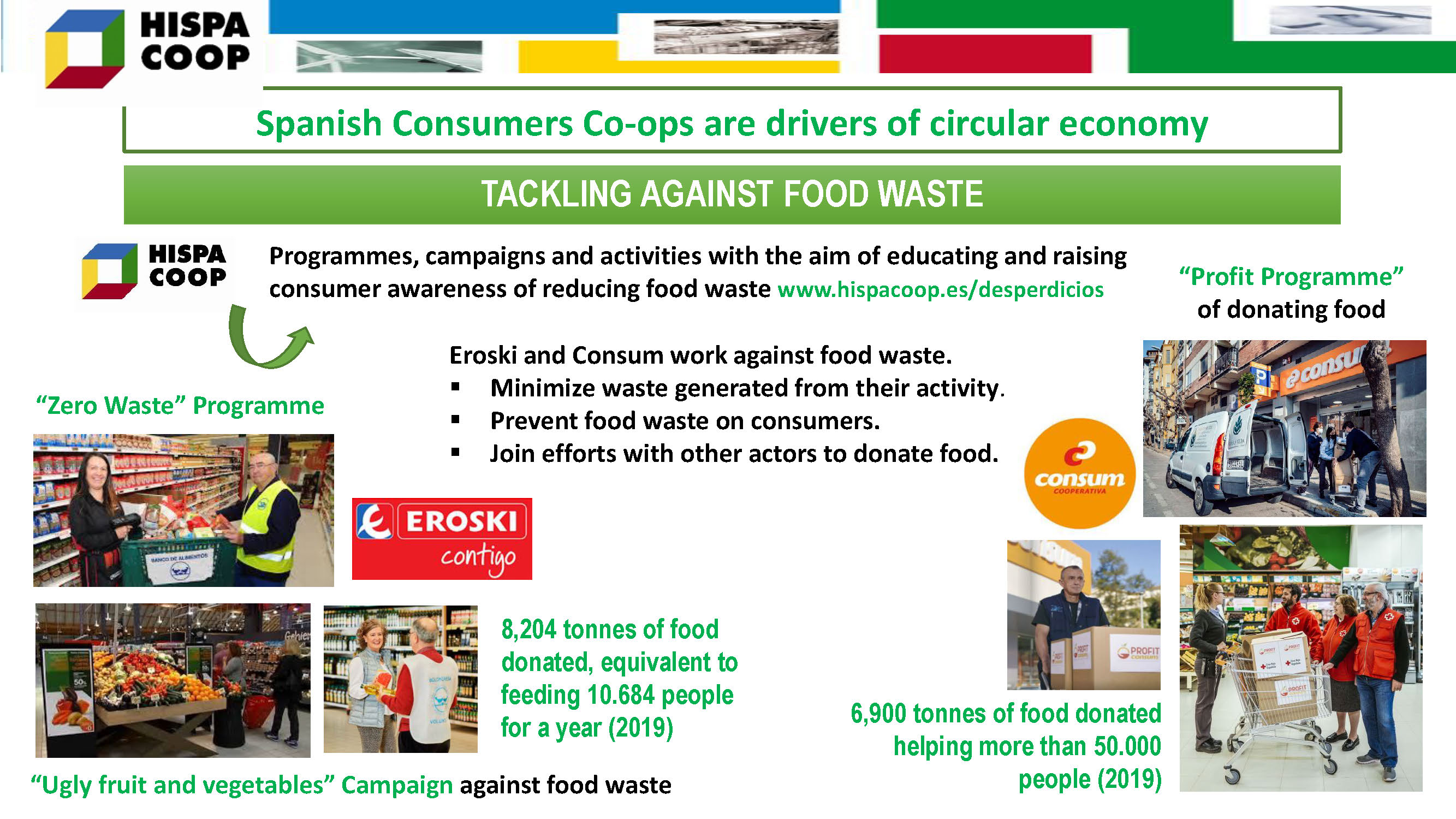 These national campaigns are underpinned by increasing business sustainability performance by the Spanish consumer co-operatives led by Eroski, Consum and Abacus in the area of optimising packaging, reducing plastics, waste management, recycling, tackling food waste and promoting healthy lifestyles and sustainable consumption, with a particular focus on fighting childhood obesity.
Concrete actions have led to tangible results, such as
38,019 tonnes of waste recycled and recovered;
1,302 tonnes/year of eliminated plastic from substitution, reduction and reuse;
15,104 tonnes of food donated, equivalent to feeding 20,000 people for a year (2019)
442,677 schoolchildren trained through the workshops and class sessions.
IV. Coop: Pioneering Sweden's Food Sustainability
Charlotta Szczepanowski – Head of Sustainability & Quality, Coop Sweden unveiled the groundbreaking sustainability labelling system developed by the consumer co-op retailer in the attempt to attain its overarching target of a significant increase in sustainable food production and consumption in Sweden by 2030.
The Sustainability Declaration, a digital label, will be placed on 17,000 food items and accessible to Coop's 3.7 million consumer-members through the mobile app. When scanning the product's barcode, easily comprehensible and visually simple information is generated about the item's sustainability impact based on the 10 parameters in the WWF initiative Sustainable Supply Chain for Food (in Sweden).
The point of the infographic is to shrink the spiderweb closest to the centre. The novel system shows how different aspects intertwine within the complexity of food sustainability. Its development has taken two years of extensive data collection and analysis. Collected data include country of origin of the production and the raw ingredients as well as all relevant certifications. All suppliers are obliged to provide this information, otherwise, Coop refuses to source from them. Analysis of products' sustainability are done within Coop's database according to clear rules for supplier input verification and information from sources such as the FAO, World Bank, WWF and BSCI.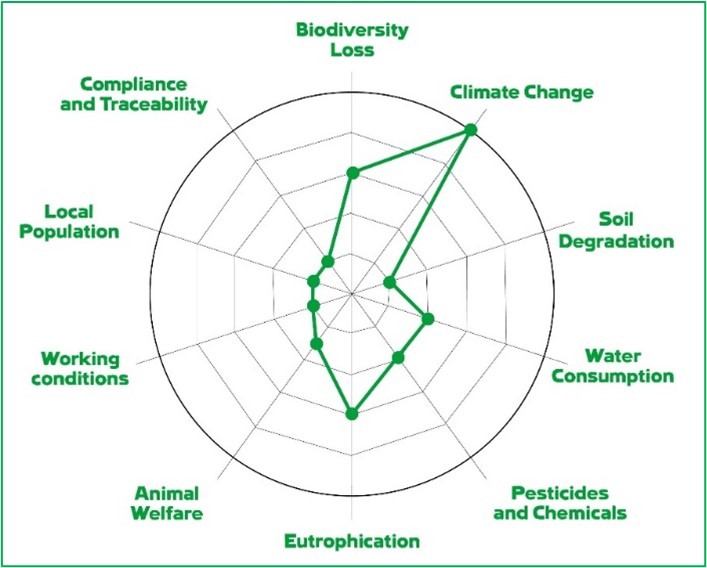 It has been worth it, because Coop now possesses a groundbreaking method to make more sustainable purchases and assist consumers to make more sustainable choices.
Further to individual food items, sustainability declarations are being developed for all food categories. The next step? Embedding the Sustainability Declarations into Coop's internal governance framework so that all future food purchasing procedures adhere to the novel system. The system is scalable, so Coop Sweden is actively looking to expand this system internationally and establish partnerships with other like-minded co-ops, retailers and supply chain actors to drive forward the green transition. In 1946, Coop were the first company to disclose the ingredients on the food label in Sweden and 75 years later they become the first company to disclose the complexity of food sustainability.
V. Operational Conclusions
The session moderator - Todor Ivanov, Euro Coop Secretary-General summarised the main messages of the presentations by stressing the compelling evidence for the sustainable growth strategy employed by consumer co-operatives in the different countries, which is based on internal optimisation and external partnerships, on the one hand, with producers and suppliers, and on the other hand, with consumers and local communities.

Consumer co-ops understand their position in the supply chain and assume responsibility by generating holistic sustainability practices within the environment - business - consumer nexus.

As member-owned enterprises, consumer co-operatives embed sustainability principles in their governance and decision-making bodies, which is an issue of particular interest to the EU Commission with their most recent initiative of sustainable corporate governance. Focal actors in Europe's social economy, Euro Coop's members are proud of their myriad of actions operationalising the circular economy principles and attaining the goals set by the EU Farm-To-Fork Strategy and the UN SDGs.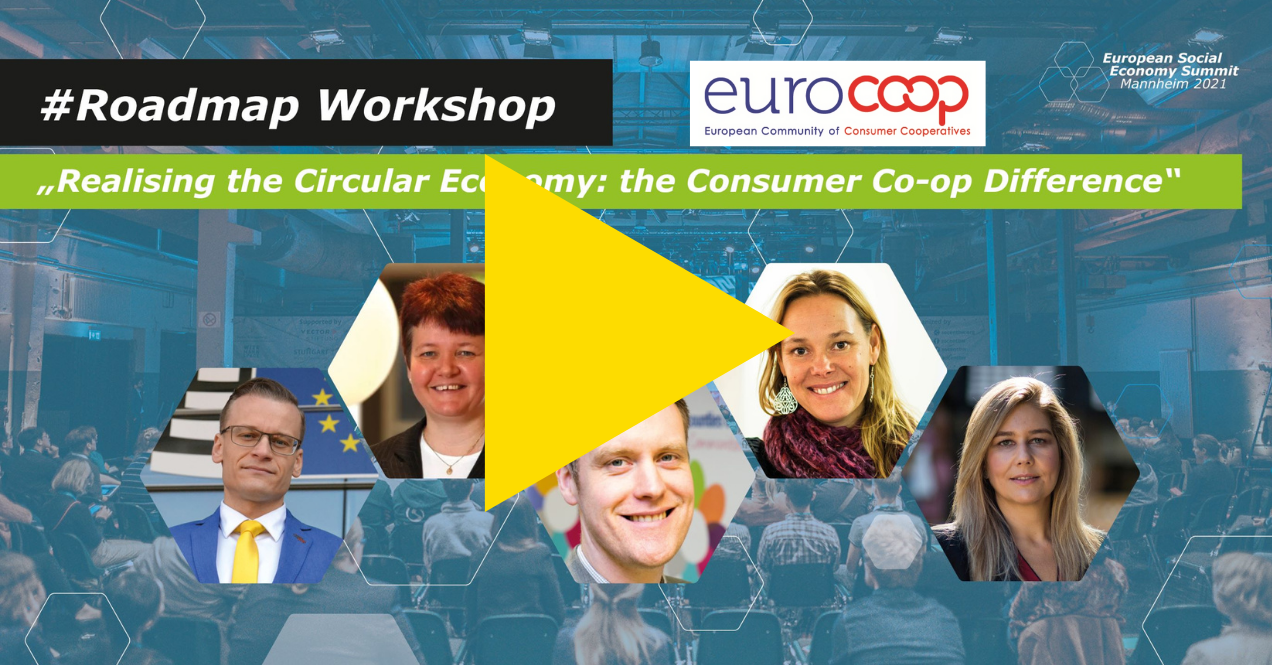 Watch the session's recording here. Access the session overview here.